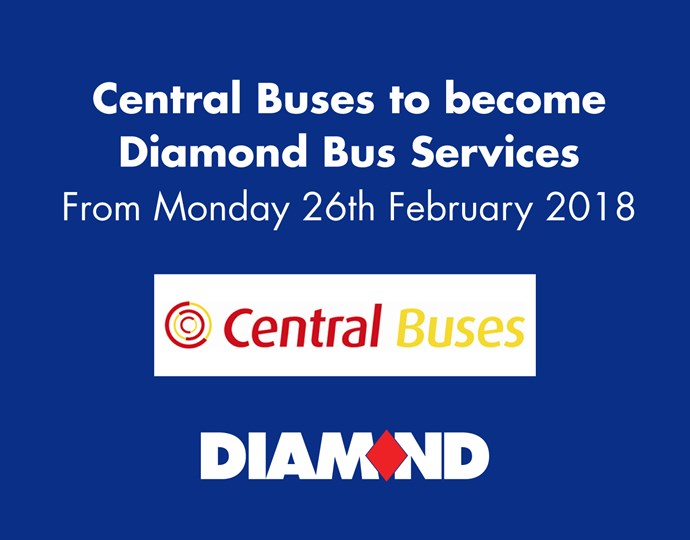 Central Buses to become Diamond Bus Services
09 February 2018
West Midlands
Worcester and Warwickshire
From Monday 26th February 2018, Central Buses services will be operated by Diamond Bus.
We would like to welcome customers from Central Buses onto our network. Below is some information about the forth-coming change.
Routes and Timetables
Service timetables will remain the same as Central Buses timetables in the immediate future.
Fares, Tickets and Passes
From the 26th February Central Buses tickets and passes will no longer be available.
Existing Central Buses Passes will continue to be accepted until 28th February 2018.
In the West Midlands County, Diamond Bus West Midlands Zone fares will apply to all services. 
In Staffordshire & Warwickshire, existing local fares will remain in place.
In Shropshire & Worcestershire, we are looking to standardise the fares between Diamond and Central services. 
Further information about any fares changes will be published on our website in due course. 
By transferring to Diamond tickets and passes you can benefit from access to a much bigger network of services across the West Midlands and Worcestershire.
Central Buses ticket machines will be replaced with new machines and tickets can be purchased on-bus using Cash or Contactless Payment Cards. Selected tickets and passes are also available from our website and from our Mobile App.
Swift and nBus tickets will continue to be accepted where valid.
Further information about services, tickets and passes will be available from our website over the coming days, so please watch this space for further updates.