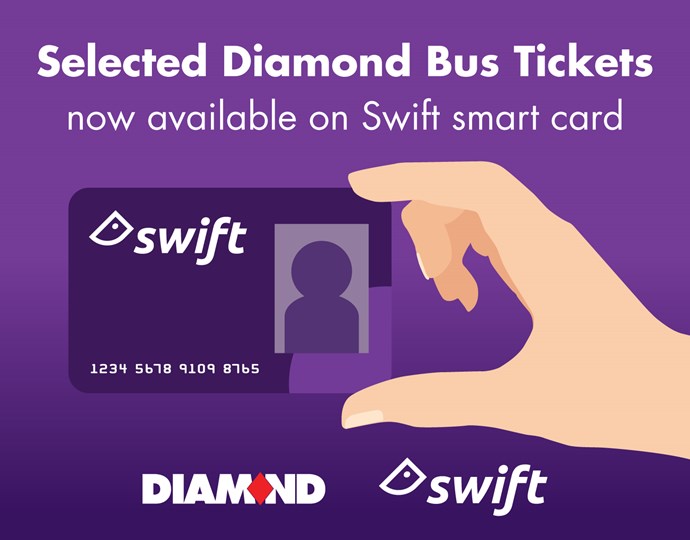 Diamond tickets go smart with Swift
18 October 2017
West Midlands
Worcester and Warwickshire
You can now purchase selected Diamond Bus Passes on Swift smart card in the West Midlands and Worcestershire.
Swift is the easy and flexible way to buy public transport tickets and passes on a smart card. 
You can now buy selected Diamond Bus tickets on a Swift Card at myswiftcard.com and networkwestmidlands.com.
Once you have purchased your pass, just load it onto your Swift Card via the Swift Collector Android App or at any Swift Collector point on-street. To travel just scan your Swift smart card on the bus!
Working with Transport for West Midlands to launch some of our products onto Swift Card now gives us the opportunity to add smart card technology to the growing ways passengers can buy Diamond Bus tickets and passes. In addition to Contactless Payment and M-ticketing, both of which are already available to Diamond Customers, we are achieving a key goal of making ticketing more flexible and accessible to passengers.
The below tickets are now available on Swift smart card...
Diamond West Midlands Adult Week
Diamond West Midlands Adult Month
Diamond Network Adult Week
Diamond Network Adult Month
Diamond Redditch Adult Week
Diamond Redditch Adult Month
Diamond Kidderminster Adult Week
Diamond Kidderminster Adult Month
...and more tickets will be coming soon!
Please note: Diamond Bus Swift tickets are valid within the specified Diamond Zones only. Please check your zone validity before purchasing Swift products.
Diamond Redditch and Kidderminster tickets are valid only within the Redditch and Kidderminster Zones, for Cross Boundary travel please choose Diamond Network tickets. nBus tickets are not valid outside of the Network West Midlands area.