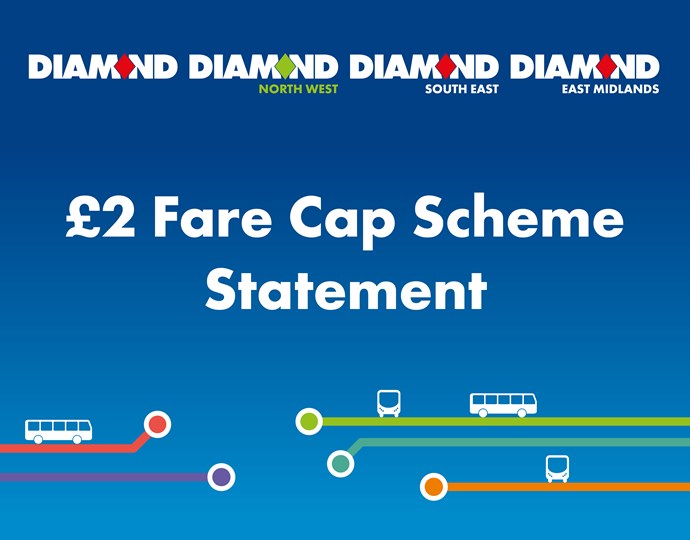 £2 Fare Cap Scheme Statement
22 December 2022
West Midlands
North West
Worcester and Warwickshire
South East
It has been publicised that a number of bus operators across England will be participating in a new scheme to cap all single fares to £2 from 1st January until 31st March 2023.
We wish to make passengers aware that Diamond Bus, Diamond East Midlands and Diamond South East will not be participating in the scheme. Diamond North West will continue to be part of the TfGM, Greater Manchester 'Get on Board' fare scheme.
As part of the DfT fare cap initiative, some Government funding is available to operators to cover the costs of the fare cap reduction. However, due to the way the reimbursements are calculated, the majority of Rotala Plc subsidiaries would be left considerably out of pocket and would suffer a huge revenue loss if we took part in the scheme.
As a business we are still recovering from the effects of revenue loss from the Covid-19 Pandemic. To participate in the scheme means the business would effectively itself have to fund over 20% of the offer to passengers that would not be covered by Government funding. We have been in discussion with the DfT regarding this, but unfortunately their position is fixed and therefore this scheme would not be a viable option for us to undertake in these regions.
We understand that during these difficult times, some of our existing passengers may be disappointed to hear that we will not be taking part in the scheme; however it is also our opinion that reducing fares now and then increasing fares again in April, would also create a negative effect on passenger opinion and risk potentially losing passengers later in the year. We believe that keeping our fares consistent is a better long-term goal. Therefore all of the Diamond Bus businesses fares will remain frozen at current prices.
If you are a regular Diamond Bus traveller, you can already benefit from journey costs that are much better value than the proposed DfT fare cap when purchasing our period passes. For example, many of our monthly tickets mean that your daily trip costs are already as low as just £1.02 per journey* (*based on a WM Zone £45 Month, used over 22 days per month/2 times per day)
We believe that our current fare structure offers passengers a fair value for money rate and our ticket prices accurately reflect the rising costs of operating a viable bus network. By working towards maintaining a stable bus network this enables us to grow our business, improve our services and provide new opportunities to keep the communities we serve moving.