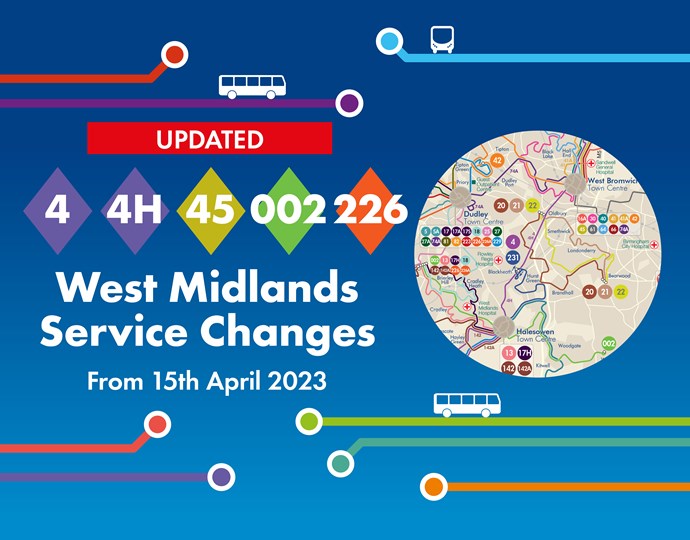 West Midlands Service Changes
09 February 2023
Diamond Bus has recently advised that we would be withdrawing Services 45, 002 and 226 from 15th April.
We understand that the proposed cancellation of these services has caused concerns amongst our loyal and valued customers, therefore we wish to update on the situation with these services.
We are pleased to announce some services will be saved from full cancellation, but service changes will be inplace.

Service 45 Walsall to West Bromwich
From 15th April, Diamond Bus will be withdrawing from Service 45, due to this service being commercially unviable to continue to operate.
We are continuing to work with Transport for West Midlands (TfWM), as they assess the options to see if they are able to financially support the continuation of service in this area.
Service 002 Weoley Castle to Merry Hill
We have reveiwed this, and in order to save this service from cancellation, we will withdraw

Sunday services only

on this route from 15th April.

 

Monday to Saturday services will remain as they currently are.
Service 226 Merry Hill to Dudley
We have reveiwed this, and in order to save this service from cancellation, we will be making some timetable and route changes from 15th April.
The 226 service will revert to the old route, omitting Wall Heath.
Monday-Friday journeys - We will remove some early morning journeys, with a 30-min frequency operating during the daytime.
Saturday services - these present our most loss making journeys of the week, therefore these will be reduced to an hourly service throughout the daytime.
226A Evening & Sunday services will be renamed back to 226 and remain as per current hourly timetable and route.
Service 4 and 4H Walsall to West Bromwich & Hayley Green
Diamond Bus has also been reviewing Service 4 and 4H, as these services are also no longer commercially viable to continue at the current service level.
From 15th April, we will withdraw all Sunday Services from these two routes.
Monday to Saturday services will remain as they currently are.

Reasons for these changes:
These routes are Commercial Services which we operate without any level of subsidy. They are funded purely on the income through our ticket sales, the income received though accepting network cards (such as nBus and nNetwork) and National Concessionary Passes.
Unfortunately, all our Commercial Services are loss-making in the TfWM area. 
Since COVID we have been working in partnership with Transport for West Midlands (TfWM) in the hope that these services would recover. Since the end of August 2022 we have continued to sustain losses. The decline in viability of these routes is linked to the escalation in labour and operating costs and the lack of income growth. In January 2023, service revisions were put in place to try and align the income and expenditure of these routes and improve their viability. This alignment has subsequently failed, and Diamond Bus has now reluctantly taken the decision to make some significant changes to these routes.
As we have detailed previously, the current West Midlands market of Low Fare Zone fares, pursuing frozen and reduced rate pricing is not a sustainable model for this area. Our ongoing discussions with TfWM have presented how this affects our business - in the hope of reaching agreements to align these fares to a more realistic level, considering increasing operating costs that currently need to be met.
Though Multi-Operator tickets, provide options for those using more than one bus operator on the network, the company only receives a small portion of the value of the ticket for carrying that passenger. If more passengers were to buy Diamond Bus ticket products this would significantly improve the viability of our services, with the full portion of their ticket cost directly funding the service and the investment in that services future. We hope that people understand the importance of this and consider changing their buying habits where possible.
The changes we have made will reduce our losses on the overall service operations and we hope they will improve the viability of these routes so that we are able to maintain them for our passengers going forward.
These service will continue to be reveiwed in future to assertain their ongoing commercial viability, therefore we encourage people to support their local services to ensure they are able to be sustained and continue.
Further Information: 
The role of TfWM in these changes:
In the event that commercial bus operators cease to operate bus services, the Local Transport Authority (TfWM) has the option to consider if it can provide a tendered bus route. TfWM will be assessing the options to see if they are able to financially support the continuation of these routes as tendered bus services and will keep passengers informed via their website here.
Diamond will continue to work with TfWM, as they assess options to maintain service provision in those areas affected by these changes and we advise passengers to continue  to visit our website and social media pages for the latest news.
Further updates from TfWM regarding these services can also be found here