55 and 70 Service Consultation
05 November 2018
Worcester and Warwickshire
Let us know your thoughts on proposed changes to the 55 and 70 service in Redditch.
Following a period of monitoring the performance on the 55 and 70 services in Redditch, we are proposing some changes to these services. However before implementing any changes we would like your views.
Why do the services need to change?
Currently both the 55 and 70 operate half hourly services to and from Redditch, monitoring of passenger numbers show that patronage on both services are not enough to maintain this frequency of service in the future. With some journeys carrying as few as just one or two passengers they are not currently covering direct operating costs.  With less local authority bus service subsidies available and increasing operating costs, we need to look at some alternative options to make them viable services.
What are the options?
We are considering whether we should reduce the hours/days of operation as some journeys carry very few people – Perhaps the services could start later or finish earlier. We are also looking at changes to the routes, which you will see more about below. We are open to other suggestions from passengers who regularly use the service and may have good ideas about how to develop these services. Please take a look at the changes proposed below and complete the online form to give us your views and ideas.
Changes to the 70 Service:
We are proposing to extend the 70 service to serve Alexandra Hospital and Oakenshaw. This means that residents of Astwood Bank would now receive a direct link to the Hospital and the Tesco Superstore, without having to change in Redditch Bus Station. Connections to services such as 247 to Evesham and 67 to Studley could also be made at Alexandra Hospital. In this proposal, the 70 would depart the bus station hourly and operate its normal route to Astwood Bank and on the return journey back to Redditch, it would serve Alexandra Hospital, Oakenshaw Tesco and follow the 55 route back into Redditch Town Centre. It would operate in one direction, with the return journey being operated by the new 55 route.
Changes to the 55 Service:
The 55 service would be extended to serve Astwood Bank and Crabbs Cross after calling at Alexandra Hospital. It would operate in one direction as an hourly service and would follow the existing route to the Hospital, then onto Astwood Bank and return via the current 70 route along Evesham Rd.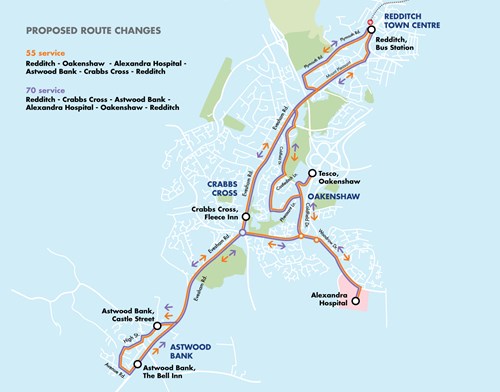 Click here to download a larger version of the proposed route map
Although the 55 and 70 would each become an hourly service, they would be evenly spaced to continue to provide a combined half hourly service from Redditch to the Hospital as passengers will be able to catch either service and the journey time is approximately the same in either direction. The reduced operation costs of operating the services in this manner means the these services become more viable for us to continue to operate.
Diamond Bus Management are considering all options available to make these routes work both for the company and for the general public and open up invitations to the people of Redditch to get intouch with us if they have workable ideas on how this can happen.
We would ask anyone with valid ideas and proposals to complete the form below and submit your ideas to us.
55 and 70 Service Consultation Form:
Thank you to those who have taken part in the 55 / 70 service consultation. This survey has now closed and the comments submitted will be taken into consideration by the company when looking at how we revise these services in future.