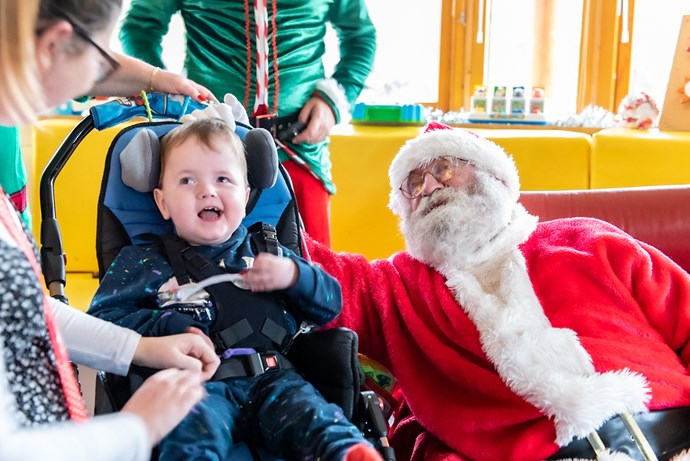 Santa swaps his sleigh for a festive Diamond Bus Delivery
20 December 2019
West Midlands
Worcester and Warwickshire
Diamond Bus has been helping Santa to give some very special local children an early Christmas surprise!
Today he hopped on a special Diamond Bus Christmas Express service to visit Acorns Childrens Hospice in Walsall. Acorns provide care to Children across the West Midlands who suffer with life limiting or life threatening conditions, a number of the Children in their care are not able to go home for Christmas and Diamond Bus were very pleased to donate lots of gifts for those individual children and for the centre itself to help make their Christmas stay more enjoyable.
Diamond donated gifts for all ages of children who use the hospice from toddlers to teenagers, including toys, video games and special sensory activity toys. The gifts were delivered on a Diamond Bus by Santa, alias cllr Richard Worrall, a member of the West Midlands Combined Authority's (WMCA) Transport Delivery Committee, and Diamond elf helpers from our Tividale Depot.
Jackie Griffiths, Head Nurse at Acorns said "Thanks to everyone involved for taking time from your busy jobs to think of Acorns in the Black Country. The gifts were beautiful and as our children's bedrooms are updated over the next 12 months we will be using some of the gifts to make the rooms more homely. Many of the gifts will be brilliant for our activity work that the children love."
Diamond Staff have been raising funds for Acorns over the year by holding various charity raffles and we hope this latest gift will help even more to provide to support these children and their families need this Christmas.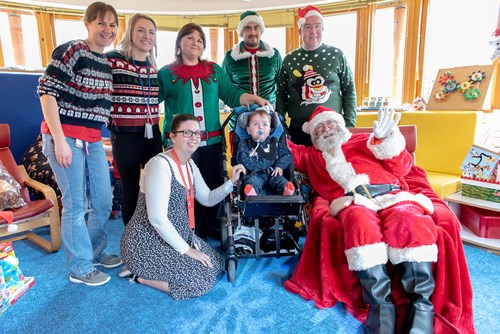 Top image: Joshua meets Santa at Acorns in Walsall
Bottom image: Little Joshua, with Acorns staff nurses Teresa, Sarah and Beth meet Santa (Walsall Cllr Richard Worrall) with Diamond Bus elves Barbara Komaiszko and Kieran Chandail and Stephen Holloway from TfWM