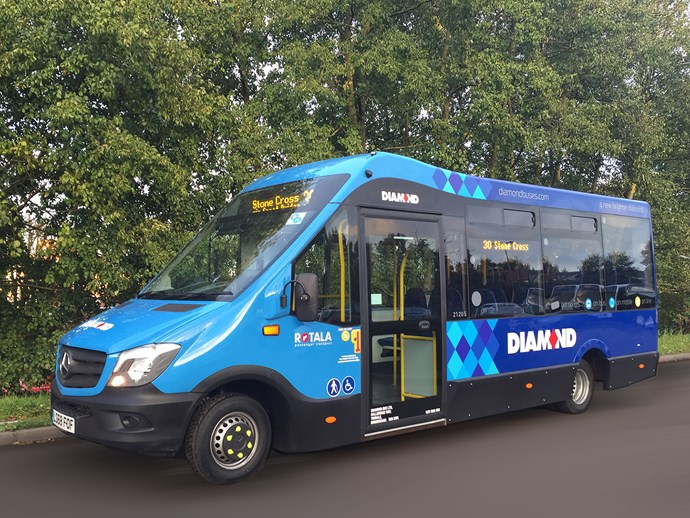 27 Brand New Vehicles For Diamond Bus In The West Midlands
29 November 2018
Diamond Bus parent company, Rotala Plc has invested £3.5million into 27 brand new vehicles for our Diamond Depot at Tividale.
This month has seen the delivery of Diamond's new Mellor Strata Buses which are being rolled out onto routes across the West Midlands.
The design of these brand new smaller buses is ideal for use on urban routes, such as those around congested towns and housing estates. A total of 10 Mellor Strata's have been introduced onto our Midlands Network so far, bringing some great benefits with them.
These buses may be small, but there is no compromise on space or capacity. The Strata has a total passenger capacity of 22 people and its roomy, light and airy design means passengers can travel in comfort within its modern interior. The low floor bus features 1 wheelchair space and includes modern heating and LED lighting.
Diamond are proud to be leading the way in the West Midlands bus market by investing in these new small and efficient vehicles which also offer some great green credentials. The Euro 6 Engined Strata's have recently been awarded a Low Emissions Bus (LEB) Certificate by the Department for Transport and produce around 15% less emissions compared to equivalent Euro 5 Diesel buses. Which means these new buses are better for the local environment in our towns and cities.
In early 2019, Diamond will be continuing with our new bus program by introducing a further 17 brand new LEB Certified, Wrights Streetlite Micro-Hybrid buses. To celebrate our huge investment, all of the new vehicles will be liveried in a new Diamond design, featuring a lighter paint scheme and graphics reflecting our vision of a new brighter Diamond.