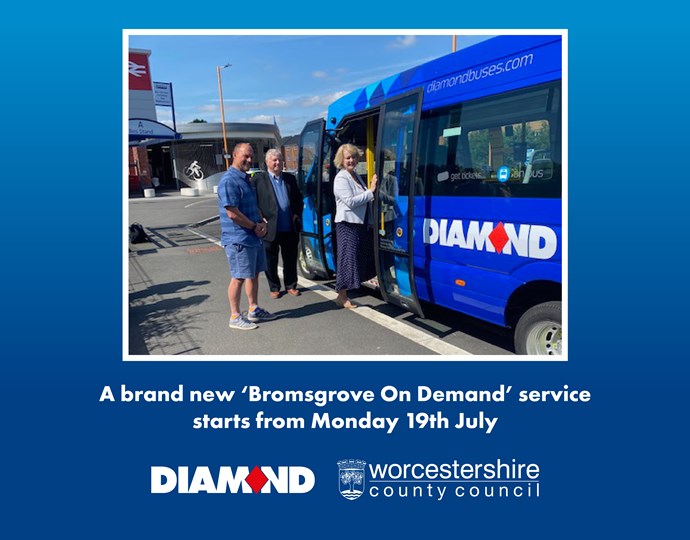 New Bromsgrove On Demand Service
15 July 2021
Worcester and Warwickshire
A new 'on-demand' bus service is launching on Monday 19th July in Bromsgrove – one of the first of its kind in the Worcestershire region.
The pilot 'Bromsgrove on Demand' (BOD) service will allow people living within Bromsgrove and surrounding villages to access both on-demand and pre-booked buses for journeys anywhere within the service area, including to and from the town centre, Bromsgrove Railway Station or nearby villages.
The service will to help reduce congestion and provide improved public transport options for local residents. It is hoped if the pilot is a success, the service will be rolled out further across the whole of the county.
The new service can be accessed by anyone within the Bromsgrove area and can be booked via an app, the service will then collect booked passengers from where they want to be picked up and drop off at a location they choose.
Diamond Bus will operate two minibuses on the service, on behalf of Worcestershire County Council who will manage bookings via their 'Worcestershire On Demand App'
Simply download the 'Worcestershire On Demand App', select your pick-up and drop-off location when booking a journey. The system will then direct you to a nearby 'virtual bus stop' for pick-up and drop-off, allowing for quick and efficient shared trips without any detours.
For the first week of the service it will be free of charge, and following this there will be a flat rate for each journey of £2.50, payable on the 'WOD' App, once booked you simply need to confirm your booking name with the driver at your collection point and away you go!
The service will operate initially from 7am to 7pm and seasonal passes will be available in the near future.
The Diamond mini-buses can each seat 13 passengers and both have one wheelchair space and a ramp and for accessibility. 
The 'Worcestershire On Demand App' can be downloaded at: 
Apple App Store  |  Google Play Store
Please note: All bookings are managed via the 'Worcestershire On Demand App' and can not be booked via the Diamond Bus app. Pick up and drop off locations are also managed via the 'WOD' app and drivers will be following the pre-booked reference points provided in the booking schedule. Fares are not payable when boarding the service but are made via the 'WOD' App at time of booking.
The service is operated by Diamond Bus on behalf of Worcestershire County Council.
Pictured above with the Diamond minibus is (L-R) Councillor Adam Kent, Deputy Leader of Bromsgrove District Council, Councillor Alan Amos, Cabinet Member with Responsibility for Highways and Transport, Councillor Karen May, Leader of Bromsgrove District Council