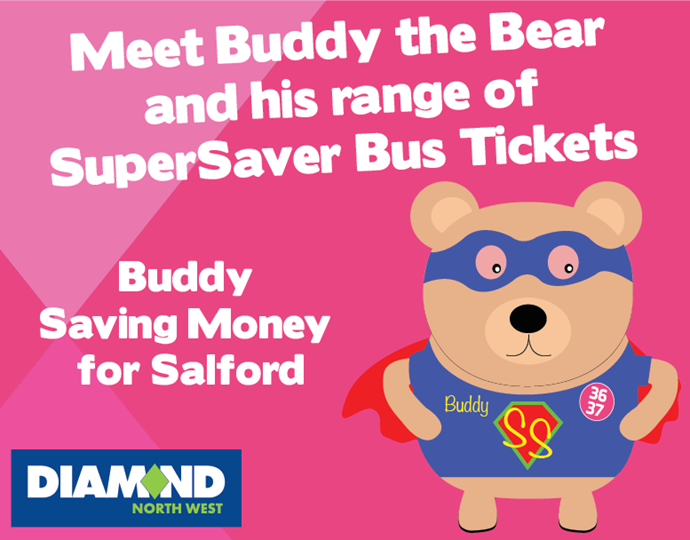 Buddy the Bear brings you the new Super Saver Range
24 February 2022
New great value fares if you're heading into Manchester on services 36/37 
Our new range of amazing value, flexible tickets are designed to fit into your life seamlessly and help ensure you only ever pay for the travel you need. However you travel we've got the perfect ticket for you. 
What's new?  
SuperSaver Day 
If you're not travelling over multiple days in the week, you can now buy a SuperSaver Day valid for unlimited travel in the SuperSaver zone for one day.  
Adult £4.00 / Child £2.00, available on the Diamond app or from your driver.  
Introductory price until 30/04/2022 
SuperSaver Flexi10 
If you want more flexibility from your travel, we've introduced a new SuperSaver Flexi10 day ticket bundle. Flexi10 gives you 10 SuperSaver Day tickets for the price of 7. Use them any time within 12 months. 
Just need three days' travel in a week or maybe you only use the bus Monday to Friday? However you travel, we've got a bundle to suit you and the bigger the bundle, the more you save! 
Buy your flexible bundle on the Diamond Bus app. 
Adult £28.00, available exclusively on the Diamond Bus app from 6th March.  
Introductory price until 30/04/2022 
What's changed? 
Single fares 
We recognise that more people are making single, one way journeys into or out of Manchester, so we've reduced many of single fares between Walkden and Manchester to make hopping on the bus even better value.  
Single fares start at £2 and you'll never pay more than £3 for a single journey between Walkden and Manchester or stops in between. For longer journeys the maximum fare will be £4, reduced from £4.50.  
Promotional prices until 30/04/2022 
SuperSaver Zone is as follows: 
8 between Manchester and Hospital Rd 
20 between Logistics North and Roe Green 
29 between Hilton Lane and MediaCityUK 
36 between Manchester and Jubbs Farm (M61 bridge) 
37 between Manchester and M61 New Bury 
X39 between Manchester and Jubbs Farm (M61 bridge)