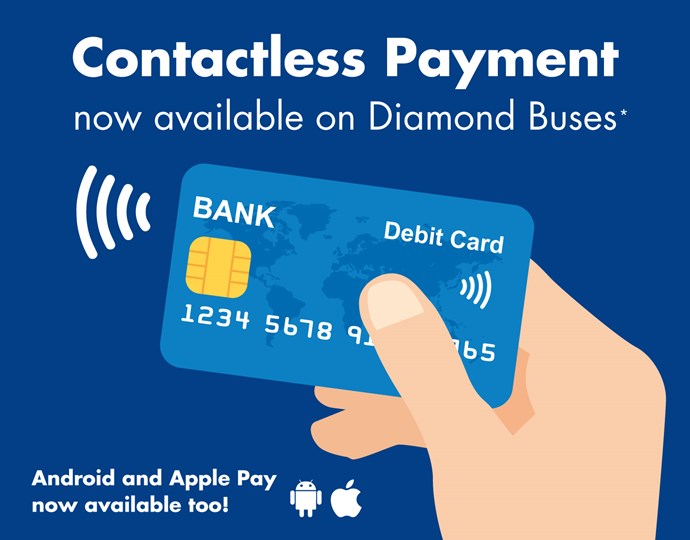 Contactless Payment now available on Diamond Buses
13 November 2017
West Midlands
North West
Worcester and Warwickshire
Diamond Bus has invested in a new ticketing system across our network. The new Ticket Machines, equipped with the latest technology went live across our Midlands network earlier this year and is currently being rolled out in the North West Region..

The investment means that Diamond can now offer passengers a range of new features including Contactless Payment.

It is now possible to purchase any ticket up to the value of £30 with a Contactless Payment bank card or via Android / Apple Pay, making us the first bus operator in the West Midlands Region to offer on-bus Contactless Payment across our whole fleet. We are now also launching Contactless Payment on our North West Fleet too.*
As well as offering customers a more convenient way to pay, the new technology will speed up bus journey times because passengers will spend less time buying a ticket when they board.

Some tickets, such as Weekly and Monthly tickets are now printed with individual QR codes. The QR codes are scanned when boarding the bus and are unique to each ticket which will significantly help to reduce fraudulent ticket use, a costly problem across the network.

The new ticket machines are also equipped with the latest in tracking and communications; live real time information feeds can now be reported back to depot traffic offices. This means we will be able to report delays much more accurately to customers and liaise easily with drivers to identify and rectify problems much more quickly.

These information feeds also mean that we are now able to pass on real time information feeds directly to passengers through the use of our new website service pages and bus tracker feature.

Simon Dunn, Chief Executive of Diamond Bus parent company Rotala Plc, said "I am really pleased with the progress we are making in Diamond Bus. This investment of in excess of £600,000 in new ticket machines, with all the benefits that brings to both customers and the business, is a clear demonstration of our determination to further improve the service we deliver to our passengers."

*Contactless Payment currently available on some North West services - check on-board notices or with your driver for availability.
For more information about how contactless work on-bus visit our contactless FAQs page.