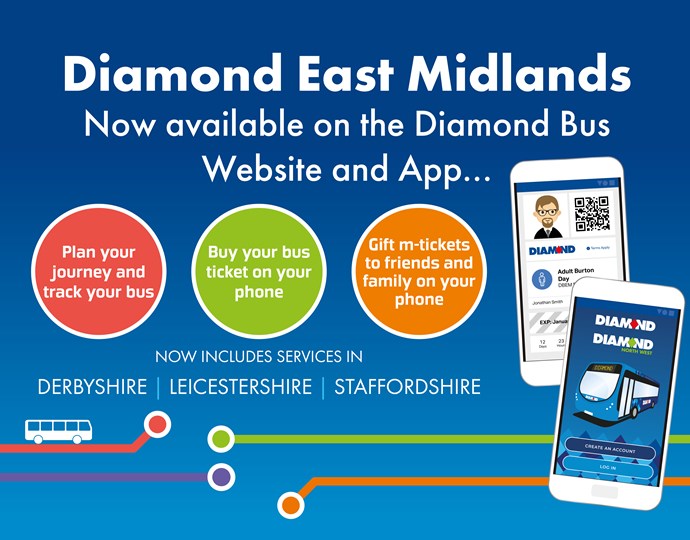 Diamond East Midlands Now Available on the Diamond App
20 February 2023
West Midlands
Derbyshire
Leicestershire
Staffordshire
We are pleased to announce that Diamond Bus East Midlands is now part of the Diamond Bus Website and App.
As Diamond Bus is an expanding business and with the recent acquisition of Diamond Bus East Midlands, we have made some changes to our regional settings on the website and app to help customers filter service information specifically for the region they are travelling in. We are now pleased to say that new regional sections for Derbyshire, Leicestershire and Staffordshire have now been added.
In these section you will find service information, timetables, route maps and bus tracking options for all Diamond East Midlands services. You can also find service updates for service changes and diversions in our Service Updates section
Tickets for Diamond East Midlands services are now also available via the website and app. Following a recent name change you can purchase tickets for Burton Zone, Lichfield Zone and Diamond Network Zone B (Formerly Midland Classic Network Zone) on your phone at the touch of a button, if you are new to the Diamond App, check out our M-ticket guide here. Buy M-tickets for yourself, or members of your friends and family with our great ticket gifting function. 
We welcome our new Diamond East Midlands customers to our website portal and we hope you find all the information available about us helpful.
Download the Diamond App today for bus tracking and new M-tickets: