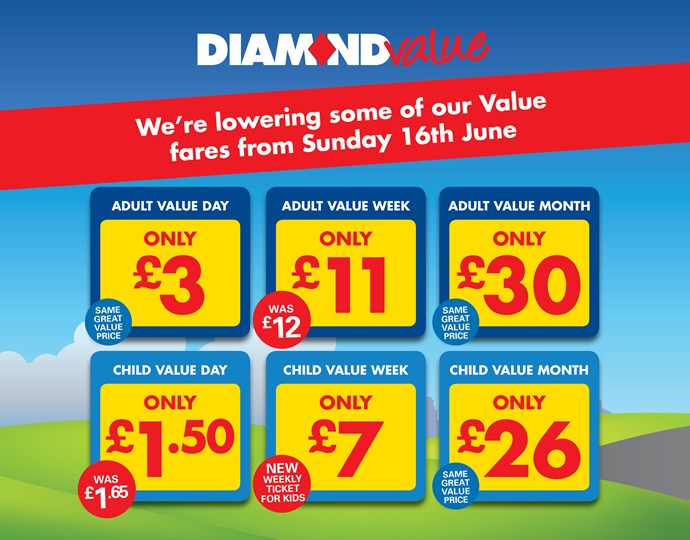 We're reducing selected Diamond Value fares
12 June 2019
From Sunday 16th June, for a limited period, some of our Diamond Value fares will be reduced, giving you even more value on Diamond Services...
Diamond Value already offers some great value on selected Diamond routes. They are available on these West Midlands services 002*, 4, 4H, 16(Birmingham), 16W, 31, 32, 40, 42(Dudley), 43(Bilston), 50, 226 & 401E, so if you don't need the flexibility of a pass to travel on all Diamond routes these products could be your perfect choice!
We are reducing the price of the Adult Value Week and introducing a New Child Value Week ticket at just £7.00. The Child Value Day will also be reduced to just £1.50.
Unlike some low-fare zone products which are available in the area, our Value fares are valid for the whole Diamond Bus route on services such as the 4 & 4H and can also be used on any of the Diamond Value routes listed above.
Additionally on our West Midlands Bus Partnership routes, National Express also sell and accept Diamond Value Day & Week tickets which are valid on all 31/32/42/43/43A partnership services and other Diamond Value routes.


*on Service 002, Value Day Tickets are not available/valid, West Midlands Day Tickets apply, Value Week & Month Tickets are valid.