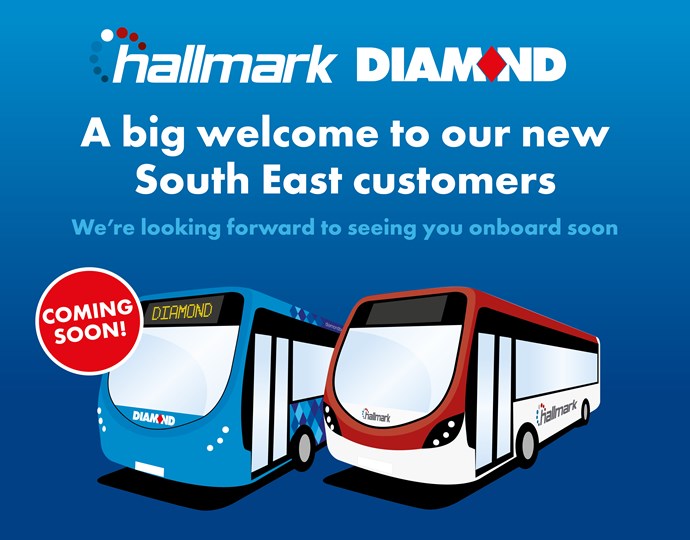 Welcome to our new Diamond Bus South East Customers
15 February 2021
We are very excited to announce that our sister company Hallmark Bus is changing their name to Diamond Bus. Over the next few weeks Hallmark Bus customers will notice their buses will become blue as the new branding rolls out.
If you are a Hallmark Bus customer, we are very excited to welcome you to the Diamond family and hope you find the below information about the forthcoming changes helpful.
Hallmark Routes and Timetables
Your routes and timetables will remain the same. 
Hallmark Tickets and Passes
Your existing Hallmark Bus tickets and passes will be accepted until their expiry date. 
Ticket prices will not change and we will continue to offer the same great value tickets as you are used to on your Hallmark services.
Who are Diamond Bus?
Diamond Bus are part of the Rotala Group, the parent company for Hallmark Bus. We have operated services across the West Midlands and Worcestershire for many years, where we are the second largest operator in the area. We also operate Diamond Bus North West in Greater Manchester where we are also one of the major operators in the area. By bringing our smaller sister company Hallmark Bus into the Diamond family, we will be able to offer Surrey and Oxford services stronger support to enable these networks to grow.
Flexible Diamond Bus tickets
Contacless Payment, Apple Pay, Google Pay & Cash purchases are still available onboard.
M-tickets will also be available on your mobile with the Diamond Bus App.
You can continue to use your Hallmark m-tickets in the Hallmark Bus App until they expire.
Diamond South East Tickets and passes will soon be added to the Diamond Bus App, when these are available you can simply download and log into the Diamond Bus App using your Hallmark Account details to purchase your next M-ticket!
The Hallmark App will continue to be available until 1st April 2021, dont worry if you will not use your ticket before this date get in touch and we can transfer a ticket across to the Diamond App for you.
Clean, Sanitised and Safe buses
We understand at this difficult time, some passengers may worry about changes to their buses service provider, but we would like to reassure you that at Diamond Bus, we've been working hard throughout the last year to keep our passengers safe.
We've introduced extra cleaning onboard our buses
We've pioneered daily thermo-fogging disinfectant across all our Diamond Bus fleets
You will be able to find lots of information on the this website to help you to plan your journey and travel with us confidently.
Newer, Cleaner, Greener buses
We have invested millions of pounds in new vehicles for our depots across the country, with many of our buses now being Micro-Hybrid, Low-Emission Certified vehicles, which help to contribute to better air quality for our local towns and cities.
Watch this space!
We'll be keeping you posted regularly about the changes, so keep an eye on our website and social media announcements over the coming weeks.
Information for Diamond South East services appear in a new dedicated regional section on this site here, so please take a look around our website and find out more about what Diamond Bus has to offer.