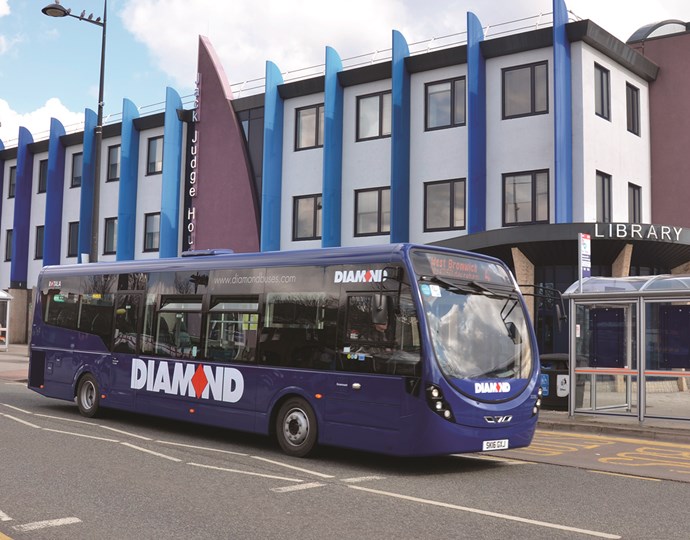 Diamond committed to providing low cost fares
02 May 2018
West Midlands
North West
Worcester and Warwickshire
A national study shows that Diamond is providing some of the lowest bus fares in the Country.
The TAS National Fares Survey is produced every two years and analyses bus fares across Great Britain. The latest survey, taken in October 2017, highlighted that despite some fare increases over the last two years, Commuters are still getting good value for money and that bus fares compare favourably to other modes of public transport.
The lowest priced Adult Day ticket found across the Country was £2.40 (Oct 2017) for a Diamond Redditch Zone Day ticket and the national average Day ticket price was £4.92. This means that, with current Diamond Adult Day tickets ranging from £2.60 for a Redditch Day, £3.90 for a West Midlands Day and £4.40 for a North West Day, Diamond are still committed to providing local bus travel at a much lower price than the national average.
The report showed that the National average increase in bus fares ranged from 5% for Adult Single Fares and 2% for average weekly fares since the 2015 report was undertaken, but despite these increases, day and weekly bus ticket prices rose by well below RPI (retail price index) since 2009. 
It also showed that operators are investing in new technology. Facilities such as contactless payment and mobile ticketing, which Diamond have been leading the way with across our network, allows passengers greater flexibility and responds to the way we now live our lives. The report recognises that operators are making these investments whilst facing the challenges of increasing road congestion, new legislation, pressure to upgrade vehicles and rising operating costs. 
CEO of Diamond's parent company Rotala Plc, Simon Dunn, said "This report is a good news story for both Diamond and the Bus Industry in general, it shows that despite rising costs, we continue to invest and improve our services to customers while offering great value travel for passengers"
See the full report at http://taspartnership.co.uk/national-fares-survey-2018/