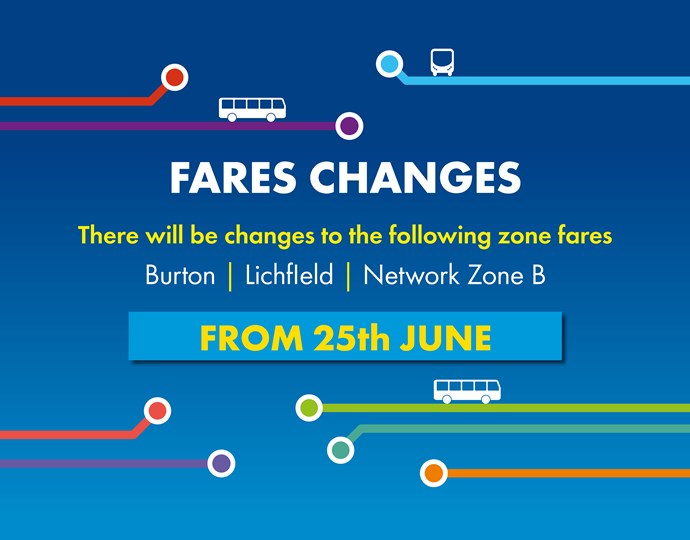 Fare changes in the Staffordshire, Derbyshire & Leicestershire Region.
30 May 2023
Derbyshire
Leicestershire
Staffordshire
There will be some changes to Diamond East Midlands ticket prices from Sunday 25th June.
Reasons for these changes:
Since the Coronavirus pandemic, the bus industry as a whole has struggled to recover and continues to sustain financial losses across the UK. Many bus routes across the Central-Shire areas are loss making, the decline in viability is linked to rising labour and operating costs and the lack of revenue growth.
We have been working with local authorities since the pandemic to revise services to try and align the income and expenditure of these routes and improve their viability, but, unfortunately in the current economic climate, we have now reluctantly taken the decision to increase our fares.
Diamond will continue to take part in the current Government funded £2 fare cap scheme, with a single journey costing no more than just £2 on most services. However some other ticket prices will increase in the following ticketing zones: Burton, Lichfield and Network Zone B. We have tried to keep fares frozen in these zones where possible.
We understand that the general cost of living has increased for many people, and in these difficult times, to hear that bus fares in the region will also be increasing is not welcome news. However, it is an unfortunate necessity in order to make our network more viable and reduce the risk of significant service cuts to the bus network in the future.
The new ticket prices can be viewed here
Changes to cross-operator acceptance of Diamond East Midlands, Chaserider and Select Bus Tickets & Passes
From 25th June, Chaserider and Select Bus tickets and passes will also no longer be accepted for travel on Diamond Bus East Midlands services. This includes tickets purchased on-bus and m-tickets purchased via the MyTrip app. Chaserider and Select Bus will also withdraw acceptance of Diamond Bus tickets on their services. 
For Multi-Operator travel, please purchase a "Staffordshire Knot" Bus ticket, which will continue to be valid on all three operators services.
Please Note: Midland Classic Tickets which were purchased via the MyTrip App, will also need to be used by 25th June, as these will also no longer be accepted after this date