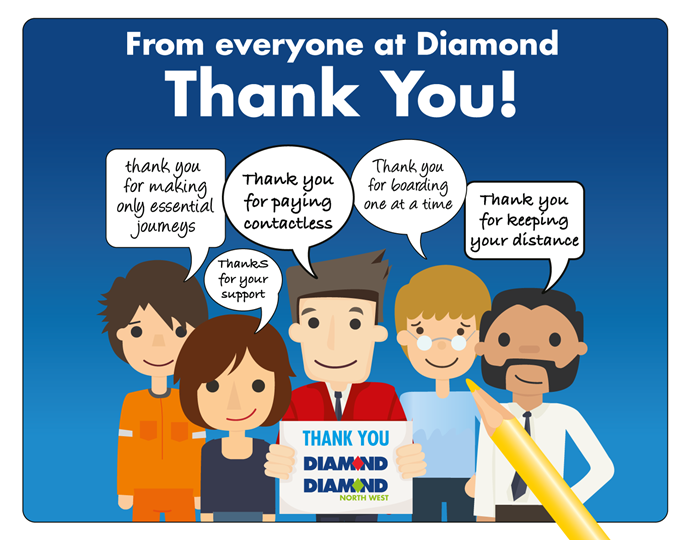 It's time for Friday Funday!!!
03 April 2020
West Midlands
North West
Worcester and Warwickshire
If your little ones are at home and missing their usual bus journeys, we're providing a little fun to beat some of the lockdown blues. We will try and provide some Friday Fun activities here over the next few weeks for your little ones to do while they are not at school.
We hope these little things will help at this difficult time and until we can welcome you back onboard again.
This week we want to thank you, our customers, for your support during this time.
Thank you for following the guidelines and keeping yourself and our staff safe.
Download this weeks Friday Funday activity here.
You an still download our word search puzzle for you here
Can you find the Diamond Bus related words in the puzzle?
You an still download Our Rainbow of Hope Poster here
We created a special Rainbow of Hope poster so you can tell us what special people you would like to say thank you to, for working so hard. Once you have completed your poster you can put it up in your window, or you can send it us and we will put it in one of our Bus windows to brighten up our buses. You can send it to us here:
Brighten Our Bus
Diamond Bus Ltd
Hallbridge Way
Tipton Rd
Tividale
West Midlands
B69 3HW
Brighten Our Bus
Diamond Bus North West
Weston St
Bolton
BL3 2AW


You can still download our design a Giant Easter Egg here.
What would be your very favourite Easter Egg flavour?

You can still download our Diamond Bus colouring in sheet here.
Enjoy a 'virtual' family fun day out buy bus, and when you have finished your picture, why not make a up a story about where your bus journey could take you. Happy Colouring!