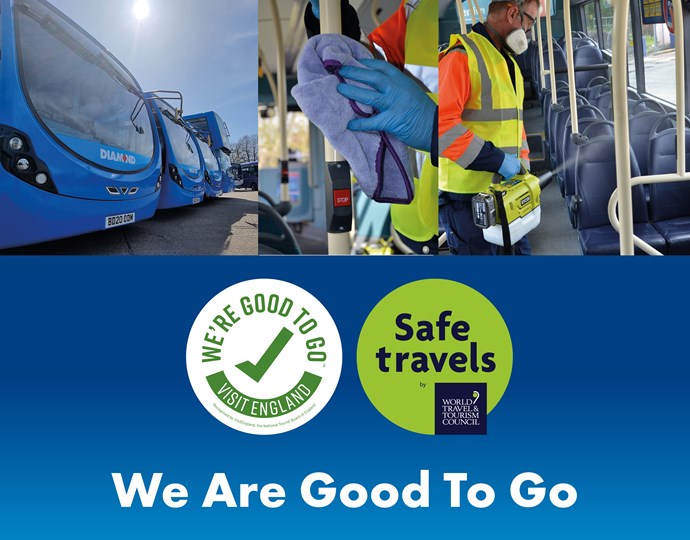 Diamond Bus is "Good to Go"
22 April 2021
West Midlands
North West
Worcester and Warwickshire
South East
We are pleased to announce that we now hold the 'We're Good To Go' and 'Safe Travels' standard marks in recognition that our business is following government and industry COVID-19 guidelines.

As lockdown restrictions begin to ease and shops and other services begin to reopen, we want to encourage people to feel confident about returning to their local bus services again.
Diamond have been working closely with Government bodies and transport authorities throughout the pandemic. We introduced many new processes to ensure we are doing everything possible to keep our staff & customers safe and our Visit England "We're Good to Go" certification further highlights our commitment to maintaining these high standards moving forward.
Most of our services are now back to full service levels and as our local town centres begin to re-open again we are looking forward to welcoming more people back on-board.
As more passengers return to travelling, Government restrictions and Industry guidelines on passenger capacity have been eased and we are now able to permit more people to be seated on our services. We continue to ask that passengers keep space between themselves and others when possible, but at busy travelling times it may not always be possible to sit apart from others and some passengers may need to sit next to each other.                
On our buses, you will see that some seats are still taped off and unable to be used and new capacity signage is being clearly displayed at the front of the bus. If you are worried about your bus being full before you get on, our mobile app has a helpful Passenger Capacity Guide which shows how busy the bus is as green, amber or red symbols so you can check before the bus arrives. We have also introduced extra buses on selected routes and busy times to assist with passenger capacity.
Wearing a face covering in public areas has become a way of life for many in these times and until guidelines change, Diamond Bus continues to support the regulation of face coverings to be worn by all bus passengers, unless they are exempt. Your face covering should be worn fully – covering both your mouth and nose, for the entire duration of your journey, including when boarding and alighting. We frequently communicate to passengers on the importance of wearing a face covering and encourage everyone to be aware of the full government guidelines around this requirement.
We're asking passengers to keep windows open on the vehicle to allow fresh air to circulate around the bus and we do encourage everyone to carry hand sanitiser with them whenever they are out & about, to continue to protect themselves in public areas.
We have continued to encourage passengers to pay using cash-less methods as much as possible and have many alternative payment options available such as on-board contactless payment and pre-purchase m-tickets available on the Diamond Bus App.
We have adopted more intensive cleaning processes on vehicles with extra focus on touch points such as hand-rails and seat-backs and all drivers have an anti-bacterial disinfectant kit available in their cab.
Diamond Bus was one of the first operators in the country to adopt pioneering daily Thermo-Fogging santisation across its whole fleet early last year. This procedure still continues, with our buses being sanitised with a tested disinfectant that remains effective against both Covid-19 as well as other viruses and bacteria for more than 24hrs. This ensures the treated vehicle is clean, virus free and protected. 
So whether you are looking forward to a shopping trip, meeting a friend for coffee or getting back to the office - when you are ready to start returning to your regular travelling activities, we are here, we're good to go and we are ready to welcome you back onboard. 
For more information about our current travel guidelines, please visit some of our information pages below: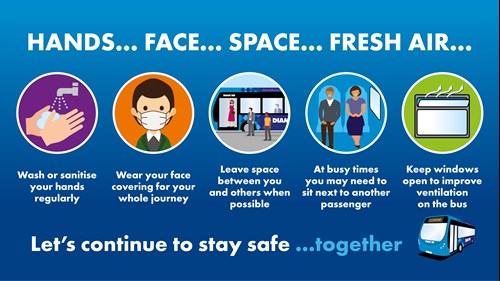 Page updated: 17th May 2021