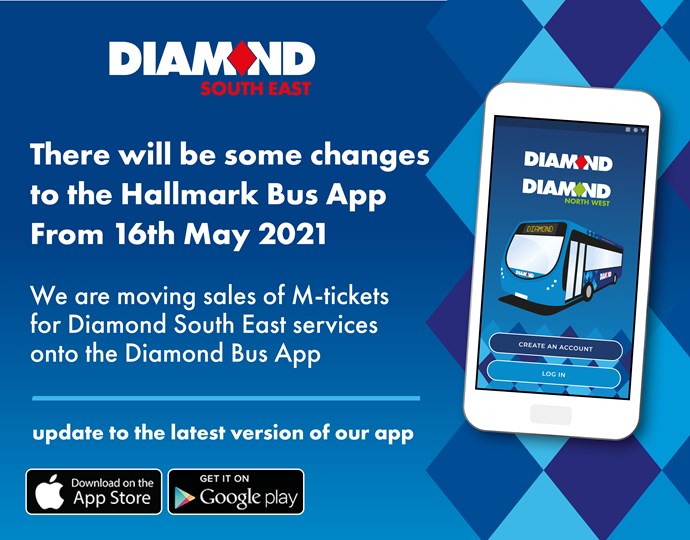 Changes to Hallmark Bus M-Tickets
05 May 2021
As you will be aware, Hallmark Bus has recently changed its name to Diamond Bus South East and as part of this process we will be moving sales of our M-tickets onto the Diamond Bus app going forward.
If your Hallmark M-ticket has already expired or will expire before 1st June 2021.
Your Hallmark M-ticket will be valid up to this expiry date. You will simply need to download and log into the Diamond Bus App next time you wish to purchase an m-ticket to travel on Diamond South East services.
You can log in to the Diamond App using the same details as you would log in to the Hallmark App. When you sign in for the first time, simply select South East as your region, and your app access will be tailored to show your chosen regional information. Unfortunately, we are unable to transfer your previous hallmark order history across to your new account, but any new purchases you make you will automatically be saved in your new Diamond app wallet.
If your Hallmark Bus M-ticket has not been activated or will expire after 1st June 2021.
If you have a Hallmark M-ticket that will not be used before 1st June and you wish for it to be transferred across to the Diamond Bus App, please get in touch with us at Comments-DiamondSE@rotala.co.uk and we can arrange this for you. You will need to be able to provide us with the Full Name & Email address you have registered on the Hallmark App and have logged in to your new account on the Diamond Bus App using those same details.
Hallmark App withdrawal
From Sunday 16th May 2021 new sales within the Hallmark App will be withdrawn, however all tickets that have been previously purchased will continue to be available in your ticket wallet.
From 1st June 2021 we will no longer be supporting the Hallmark Bus App, this includes removal of M-ticket acceptance and service data will no longer be updated, therefore we recommend that you transfer across to the Diamond Bus App as soon as possible to ensure you can keep using our great app services without any disruption. Once you have logged into your account on the Diamond Bus App, simply delete the Hallmark App from your device.
We thank you for your custom as a Hallmark Bus passenger and look forward to your continued support as part of Diamond South East.