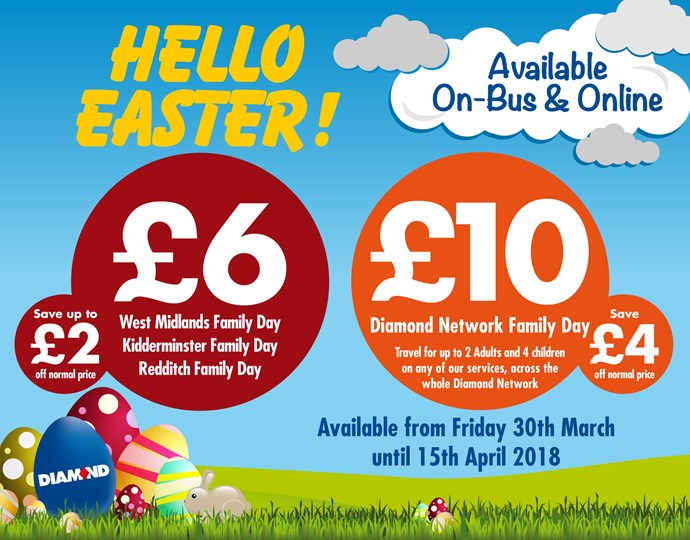 Hello Easter!
29 March 2018
West Midlands
Worcester and Warwickshire
Our great value family day ticket offers are back for the Easter holiday, so its a great time to plan some fun days out with the kids...
To help you get out and about and make the most of your Easter break, from Friday 30th March until Sunday 15th April, our Diamond Family Day Tickets are on special offer. You can get our special offer when you buy on-board using Cash or Contactless or buy online through our website or mobile app.
Unlimited travel for all the Family from just £6.00
With our Family Day tickets, up to 2 adults and 4 children can enjoy unlimited travel on all Diamond and Signature Bus services in the zone specified for a whole day.
'West Midlands Family Day', 'Redditch Family Day' & 'Kidderminster Family Day' tickets are just £6.00, saving you up to £2.00 of the normal price
If you want to travel further afield, our Diamond Network Family Day is just £10.00 during the holiday. That's a saving of £4.00 off the usual Network price! And you can use this ticket on ANY Diamond or Signature Bus ANYWHERE on the Diamond Network*.
Save more at Midlands attractions when you travel by bus!
Not only is traveling by bus a great value way of getting around, did you know that if you travel by bus to select West Midlands venues, you could receive a discount on your entry ticket.
Head on over to the Network West Midlands website to see the latest discounts available at attractions such as Black Country Living Museum, Dudley Zoo, Thinktank and Sealife Birmingham. Just download your chosen voucher and show it with your bus ticket to claim the offer!
There's also lots of places to visit over on our Popular Destinations pages. 


Diamond Family Day Tickets Terms and Conditions:
A Family Day Ticket is valid for one day unlimited travel on all Diamond and Signature services in the zone specified for up to 2 adults and 4 children. A family group must consist of at least 1 adult & 1 child. Children aged 5-15.
 *Offer not available on Diamond Bus North West Services.
Network West Midlands Attractions Vouchers Terms and Conditions: Some terms and conditions may appy to local attractions offers, please refer to your chosen voucher and Network West Midlands website for further details.