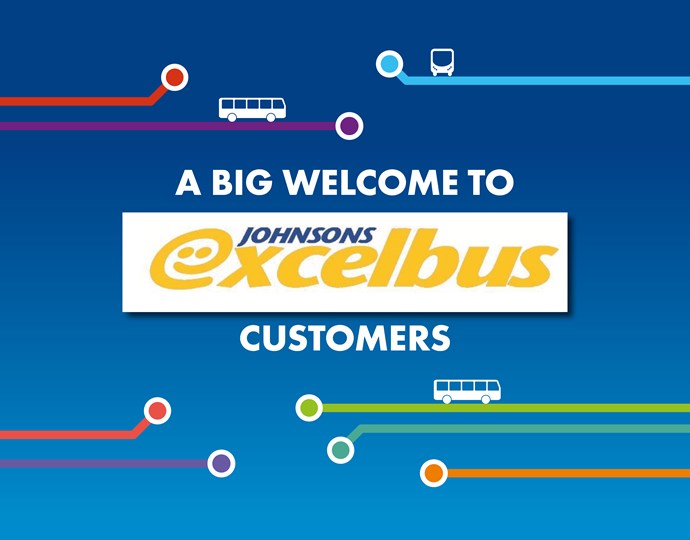 Johnsons 'Excelbus' to be taken on by Diamond Bus
29 April 2022
West Midlands
Worcester and Warwickshire
Johnsons 'Excelbus' services will soon be welcomed into the growing Diamond Bus business.
Johnsons have made the decision to sell the Excelbus part of their business to our parent company Rotala Plc, with the exchange expected to be concluded on 29th May.
Johnsons will cease operating local bus services, however their coaching and private hire operations will remain unchanged.
This new acquisition further strengthens Diamond's growing Midlands business in the West Midlands, Worcestershire and Warwickshire region. The deal will involve Diamond Bus taking over operation of all Excelbus local bus services including the X20 Stratford to Solihull, 150 Redditch to Kings Heath and Stratford's Park & Ride services.
For those customers joining us from Johnsons we look forward to welcoming you onboard. We will be taking on Johnsons drivers – so you will continue to see familiar faces on your routes and we will be working to rebrand the buses into our distinctive Diamond livery soon after the change over date.
Service changes from 9th May:
Please Note Service Update: Following the recent announcement that Diamond Bus will take over Johnsons Excelbus at the end of the May, we wish to inform passengers that, to assist Johnsons with some of their current operational difficulties, the following services will commence operation with Diamond Bus earlier than advertised from Monday 9th May:
Service 64 - Redditch to Alexander Hospital
Service 149 - Redditch to Worcester
Service 150 - Redditch to Kings Heath
Service S83 - Redditch to North Bromsgrove High School
More information and timetables are available on the individual service pages.
Other services from 29th May:
Below is a list of other services that Diamond Bus will be taking over from Johnsons. More information and timetables will be available on our website shortly.
Bus Service
Route Description

Moreton in Marsh to Stratford upon Avon
(inc. schooldays journeys)

Lower Brailes, Quinton to Stratford upon Avon

Stratford upon Avon Circular North - Justins Ave, Maybird

Stratford upon Avon, Solihull, Coventry.  (inc. schooldays journeys)

27

Pebworth to Stratford upon Avon

X50
Chipping Norton,

Stratford upon Avon

, Birmingham

Stratford upon Avon to Banbury (inc. schooldays journeys)

76/76X/76A/76S

Stratford upon Avon

to Banbury

(inc. schooldays journeys)

Stratford upon Avon to Leamington Spa (inc. schooldays journeys)

Leamington Spa to Banbury

Redditch to Studley School
 
Solihull - Coventry

Solihull - Balsall Common

Stratford upon Avon Park & Ride

Henley-in-Arden to Moreton Morrell College (AM Journeys Only)

N1 & N2
NFUM Staff Shuttle Bus

Uni Shuttle

University of Birmingham  Shuttle – Term time only
In the meantime, the Diamond Bus website has lots of useful information to help you find out more about traveling on the Diamond Bus network…. So take a look around, and don't forget to follow us on social media to keep up with our latest news and announcements.
If you do have any queries that you are unable to find the answers to, our friendly customer services team will be on hand to help – email us at comments@diamondbuses.com
Updated 17 May 2022.