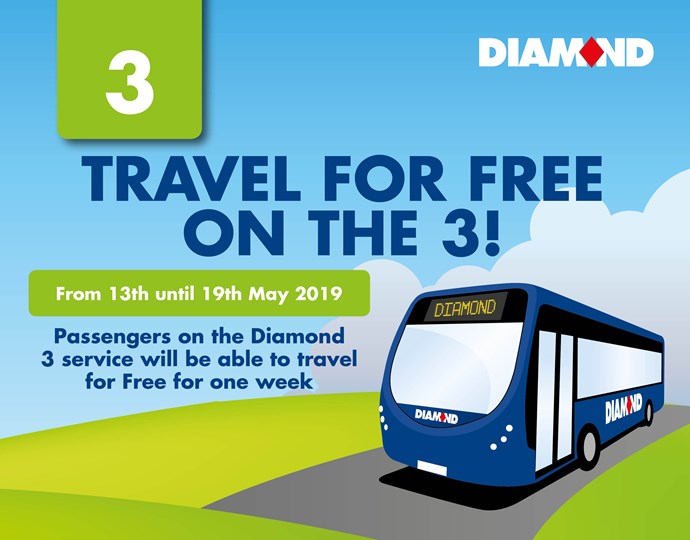 Travel for Free on the 3 with Diamond Bus
25 March 2019
Worcester and Warwickshire
From 13th – 19th May 2019 Diamond Bus will be providing Free travel to all passengers using our 3 service in Kidderminster.
The 3 service, which operates between Kidderminster town centre, Stourport and Arley Kings will be provided free of charge for a seven day period, in response to the recent request from the Traffic Commissioner to compensate customers along this route.
We have been working to address the concerns of the Traffic Commissioner and in addition to offering a week of free travel, we have also recently launched a new timetable to improve performance on this route.
During the seven days, passengers will not be charged for using our 3 service. We have also agreed that no claims will be made for concessionary passengers on this service, which means that the local authority will also benefit and save on concessionary travel reimbursements for this period.
Passengers on our 3 service who purchase season tickets, such as month passes, may wish to make the necessary ticket arrangements to take advantage of the free travel period. You may wish to purchase weekly tickets in the run up to the offer, or arrange the purchase and activation of your Monthly pass in suitable time for it to expire on 12th May and then purchase your next pass after the offer ends.
Free Travel Offer Terms and Conditions:
Free travel applies to all passengers traveling on Diamond Bus Kidderminster 3 Service only.
Passengers wishing to travel on other Diamond services will be required to purchase a ticket or show a valid pass on all other services.
Passengers who purchase season tickets, such as month passes, are advised to make appropriate ticket arrangements in advance if they wish to take advantage of the free travel period. Please note, Month passes purchased on-bus or M-tickets activated between 12th April - 19th May cannot be frozen, postponed or refunded as part of this offer.
Concessionary pass holders will not be required to scan their bus pass on the Kidderminster 3 service during the free travel period. Concessionary passes must be scanned on all other services during this time.