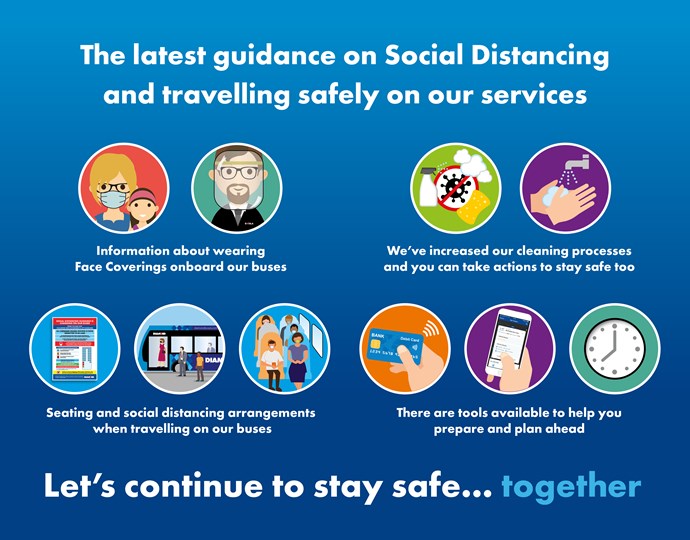 Latest Coronavirus Travel Guidance for Passengers
13 January 2021
West Midlands
North West
Worcester and Warwickshire
South East
Diamond Bus are continuing to provide bus services for your increasing travel needs across all of our regions.
We have been working hard throughout the pandemic, to ensure our services operate with the upmost safety in mind and if you are travelling with us at this time, we are here to reassure you that you can do so with confidence.
Some of our seating guidelines are changing from Monday 17th May and we would like to invite you to take some time to familiarise yourself with the latest guidelines we have in place to keep you and your fellow passengers safe and how you can plan ahead to make your journey run smoothly.
Face Coverings:
Government Guidelines state that it is mandatory for passengers to wear a face covering when travelling on Public Transport unless they are exempt. This regulation is still in effect during this current phase of the roadmap out of lockdown.
Exemptions include young children and people with some health conditions (See below link for details). 
Passengers who are not exempt and refuse to wear a face covering will not be allowed to travel and could be fined. 
You should wear your face covering fully over your mouth and nose for your entire journey, including when boarding and alighting.
Your driver may not be wearing a cloth face covering when they are driving. This is because there are different regulations for Bus Drivers and other social distancing measures are in place to protect them and you. They will wear a clear face shield when social distancing can't be maintained.
To read our full guidelines regarding Face Covering regulations, please click here.
Social Distancing:
Following an easing in Government restrictions and new industry guidelines, our seating policy is changing from Monday 17th May 2021.
All Forward Facing seating will be permitted to be used by passengers as required.
This will allow for additional seats to be available to passengers as more people will be travelling.
Certain types of seating, such as side-ways and rear facing seating will be designated as not in use, and you should continue to observe any "Seat Not in Use" signs.
The Wheelchair Space will be available for Wheelchair Users only at this time.
Buggies may be stowed in the Buggy/Wheelchair area, if no Wheelchair is onboard. They must not obstruct the aisle and should be folded down at busy times. Parents & children are not permitted to sit in the Buggy Zone Area and must be seated in the forward facing seats.
At busy travelling times it may not always be possible to socially distance and passengers may need to sit next to each other.
Standing whilst travelling will still not be permitted on any service, and we ask passengers to refrain from queuing in the aisle when wishing to leave the bus.
Seats within a 2m distance of drivers will continue to be out of use and we request that passengers maintain limited interaction with drivers when boarding and alighting to allow them to carry out their duties safely. 
You should continue to keep space between yourself and others when it is possible to do so, such as at less busy times and when waiting for the bus.
When boarding the bus, please allow other passengers to get off before getting on and keep a sensible distance between you and others while waiting.
Social Distancing Guidelines on School Services:
If your child will be travelling on a School Service or a dedicated school children only bus, please be aware of these guidelines.
On dedicated school journeys, social distancing is recommended where possible. However, Children who attend the same school are considered to be within a social "Bubble". Therefore children are permitted to sit next to other children from the same school as they attend. Full vehicle capacities will be permitted on dedicated school buses.
We currently have a 'No Change Policy' in place to minimise cash handling, Children paying cash fares should be provided with exact fare. We would encourage pupils to utilise pre-purchased Diamond M-tickets on their mobile phone if possible.
Government guidelines on wearing Face Coverings state that children on dedicated school services are not required to wear face coverings by Law. However Government bodies and local authorities advise that children over the age of 11 are recommended to wear face coverings on all public transport, including school services. Therefore we request that children over 11yrs do wear Face Coverings, unless they are exempt for health reasons.
Parents are requested to ensure their children are familiar with appropriate hygiene guidelines, such as regular hand washing, use of hand sanitiser, using tissues to catch sneezes and coughs and to dispose of these safely in the bin when they get home.
Sensible levels of conduct and behaviour are expected on all school services during this time. Reports of persistent problems around behaviour and non wearing of face coverings onboard will be reported to the school.
Parents should be aware that their child must NOT travel if they, or anyone in their household has symptoms of COVID-19.
To find out more about Government guidelines on School Services, please click here
Lower Passenger Capacity:
We are now able to offer more seating capacity for passengers, however we are still operating vehicles with a slightly lower capacity than normal on General Public Services.
Once the vehicle has reached the new maximum capacity level, the driver will display the 'Sorry Bus Full' sign in the front window or on the destination blind (NW only) and we would ask you to be patient and wait for the next service to come along. 
Drivers will only allow new passengers onboard when others get off the bus. 
The number of people our buses can carry varies depending on the size of the bus, so please look out for signage on the bus to guide you.
If the last bus of the day has reached its full social distancing capacity, the onwards boarding will be at the discretion of the driver. Drivers are instructed that vulnerable passengers must not be left behind. However please be aware that the driver must also consider the safety guidelines in place.
We ask passengers to plan their journeys as much as possible to avoid busy times, such early morning peak and afternoon school times.
To assist passengers plan their journey to avoid busy periods, we are now able to provide a live capacity feed on our mobile app to show if your bus is busy or not before it arrives (currently unavailable to South East customers). To find out more about our new feature, please click here.
Assistance for passengers with Disabilities:
Our drivers are still required to meet the requirements of the Disability Discrimination Act and assist passengers with a disability.
If social distancing measures cannot be maintained when deploying wheelchair ramps, assisting passengers on and off the vehicle or assisting the passenger to a seat, then the driver is required to wear a clear face shield.
Paying for your ticket:
When paying for your ticket, passengers are encouraged to pay by cashless methods where possible to reduce the need for cash handling.
Contactless Payment, Apple & Google pay are available on all Diamond buses.
You can buy tickets on your mobile phone in advance using the Diamond Bus App.
If you do have to pay with cash, please try to have the correct fare available as we are unable to issue change at this time. 
Plan ahead for a smoother journey:
Many of our services have returned to normal schedules, but some may operate special timetables during periods of lockdown.
Our regional service updates pages can be found here:
West Midlands | Worcestershire & Warwickshire | North West | South East
Check our website for the latest timetable information.
Service updates are available on both the website and the Diamond Bus App.
Check our social media pages for service disruption updates.
Please leave extra time for your journey. You may not be able to get on the first bus and may have to wait for the next one.
Check if your bus is busy or not before it arrives on the Diamond Bus App.
Taking steps to protect yourself and others:
We ask passengers to follow the latest government guidelines regarding protecting yourself and others against Coronavirus
Wash your hands with soap and water regularly for at least 20 seconds. 
Use hand sanitiser whenever you are out and about. 
Please note, it is the customers responsibility to provide their own hand sanitiser and face covering as we do not provide these. 
Wear your face covering fully over your mouth and nose for your entire journey, including when boarding and alighting the vehicle.
Please do not leave used face masks on the vehicle, please take them with you and dispose of them safely when you have left the bus.
Cover your mouth and nose with a tissue when you cough or sneeze, and dispose of your tissue safely after you have left the bus.
Most importantly, if you, or anyone in your household experiences symptoms of coronavirus, please do not travel, stay home and follow Government guidelines.
Enhanced Bus Cleaning Processes:
The health and safety of our passengers and staff is priority for us, thats why we have introduced enhanced cleaning processes on all our vehicles.
Every bus has been fitted with an anti-bacterial disinfectant kit for the drivers use; this can be used to clean the drivers working area and anywhere on the bus should they deem it necessary while out in service. 
Windows may be kept open to improve ventilation around the bus.
More intensive cleaning regimes have been introduced during evenings when buses are stationed at our depots
We have invested in thermal fogging sanitisation equipment for each depot to eradicate Covid-19 virus on our buses.
The thermal fogging equipment passes EN 14476 tests, which means it is effective against Covid-19. 
As part of the Rotala Plc Group, we were one of the first UK Bus companies to introduce this

thermal fogging 

method of vehicle sanitisation across our fleet.
Our staff have been fully trained and certified in disinfection fogging and use only the approved Covid-19 disinfectant that is also fabric friendly and safe to use.
You can find out more about our new procedures here and see a video link of our Thermo-fogging equipment in action here.
We are pleased to announce that we also now hold the 'We're Good To Go' and 'Safe Travels' standard marks in recognition that our business is following government and industry COVID-19 guidelines.

The challenges of operating bus services during these difficult time are not yet over, but we hope that the measures we have put in place help you feel safe and confident to travel on our buses.
We are continuing to work with the government and local authorities. Government regulations and the enforcement of them will continue to be reviewed and Diamond Bus will update this information in-line with changes in Government Policy, please continue to look for updates on our website and social media pages.

Further Information:
A face covering does not need to be a surgical mask, it could be a bandana or scarf.
The government has set out advice for people on how to make their own face coverings easily at home 
https://www.gov.uk/government/publications/how-to-wear-and-make-a-cloth-face-covering/how-to-wear-and-make-a-cloth-face-covering
For the latest up to date information from the Government regarding travelling on Public Transport, click 
https://www.gov.uk/guidance/coronavirus-covid-19-safer-travel-guidance-for-passengers
For the latest advice from the Government regarding Coronavirus, click https://www.gov.uk/coronavirus
This page was last updated on 17 May 2021.