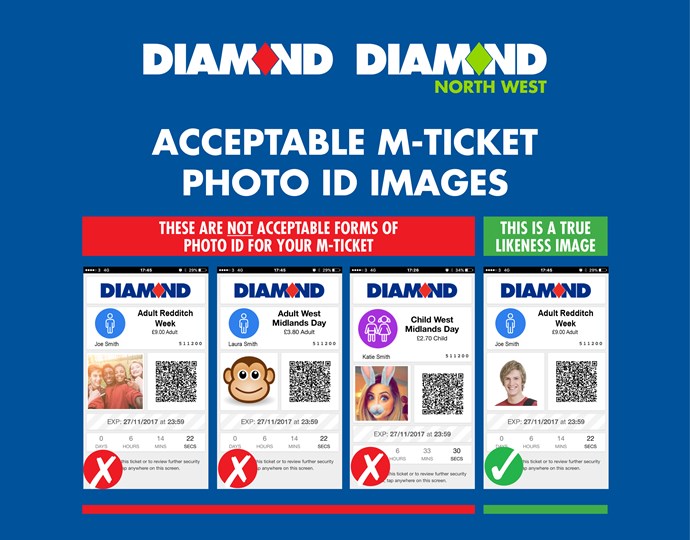 M-Ticket Photo ID images
19 December 2019
West Midlands
North West
Worcester and Warwickshire
Customers Reminded to use appropriate photograghs on M-tickets
Following a recent monitoring exercise, we would like to remind customers that a "True Likeness" image is required to be uploaded to their Diamond Bus M-ticketing account. It has been identified that a number of customers are using inappropriate images such as cartoon characters or images that do not clearly show a facial image of the bus pass holder.
Your Diamond M-ticket is an official travel document and requires you to have an accurate Photo ID for validation by drivers and inspectors. Your Diamond Bus Account Profile image is not the same as a social media profile and this image is used to authenticate your bus pass.
If the photo ID presented on your Diamond M-ticket is not a true likeness, you may be refused travel and requested to purchase an additional ticket to undertake your journey. If your ticket is examined by an inspector and found to be showing an inappropriate photograph, your ticket number will be recorded and your bus pass suspended until a correct image is uploaded to your account.
Customers should be aware that Diamond Bus will be carrying out increased inspections and cracking down on passengers who use M-tickets inappropriately over the coming weeks and months.


Please note: For security reasons, once your ticket has been activated it is not possible to change the photograph on that ticket, therefore if your ticket has been refused or suspended for an inappropriate photo ID image, please contact us on comments@diamondbuses.com to resolve, please provide your full name and email address that is registered on your account.