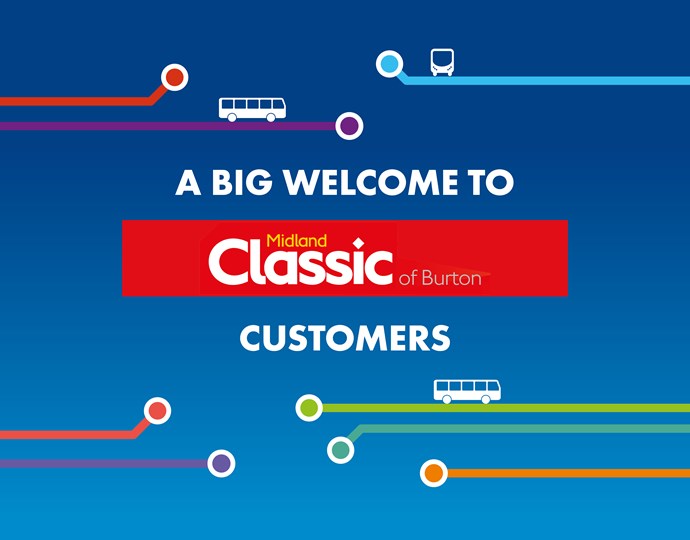 Midland Classic of Burton to be welcomed into the growing Diamond Bus business
29 November 2022
West Midlands
Derbyshire
Leicestershire
Staffordshire
Rotala Plc, parent company of Diamond Bus, has acquired Midland Classic Ltd, a well established bus operator  in Burton on Trent. 
Following the acquisition, which completed on 3 August 2022, Midland will be re-named Diamond Bus (East Midlands) Ltd. All bus services will begin to operate under the existing   Diamond Bus brand of Rotala Plc, further strengthening Diamond's network in the Midlands region.
James Boddice, Managing Director of Midland Classic, said "After 17 years of successful independent bus operation during which time the company has grown, including taking over the Arriva local garage in 2016, to become the primary operator in and around Burton upon Trent, after much consideration we have decided to accept an offer from Rotala PLC to take over the business. I'd like to thank everyone who has contributed to the success of the company, especially our employees, and wish everyone well for the future."
Simon Dunn, CEO of Rotala Plc added "Midland Classic is a well-established operator of bus services in Burton and the south Derbyshire area. The East Midlands is a new market for Rotala; however as it borders existing Diamond Bus networks in Staffordshire and the West Midlands it is an ideal addition to the growing Midlands business."
For those customers joining us from Midland Classic we look forward to welcoming you onboard. We will be employing Midland Classic staff and drivers – so you will continue to see familiar faces on your routes. We will be working to rebrand Midland buses into our distinctive Diamond livery soon after the change over date and bring you other benefits of joining the Diamond network.


Bus Services:
Local bus operations will continue as they are currently with no immediate changes to routes or timetables. We will be working to incorporate route information into the Diamond website and App in the near future; until then timetable information will continue to be available at www.midlandclassic.com


Fares & Tickets:
Initially for the launch period of these new services, tickets will be available to purchase onboard from your driver using either cash or contactless payment and M-tickets purchased via the My Trip app will continue to be available and valid as normal.
We will be working to make M-tickets for the Burton area available on the Diamond Bus App very soon. Additionally, we will be installing Tap&Go readers on Midland Classic vehicles as soon as possible - to bring you flexible Tap&Go fares. Watch this space for more news when these products will be ready!


In the meantime, the Diamond Bus website has lots of useful information to help you find out more about traveling on the Diamond Bus network…. So take a look around, and don't forget to follow us on social media to keep up with our latest news and announcements. 
If you do have any queries that you are unable to find the answers to, our friendly customer services team will be on hand to help – email us at comments@diamondbuses.com
Updated 3 August 2022.