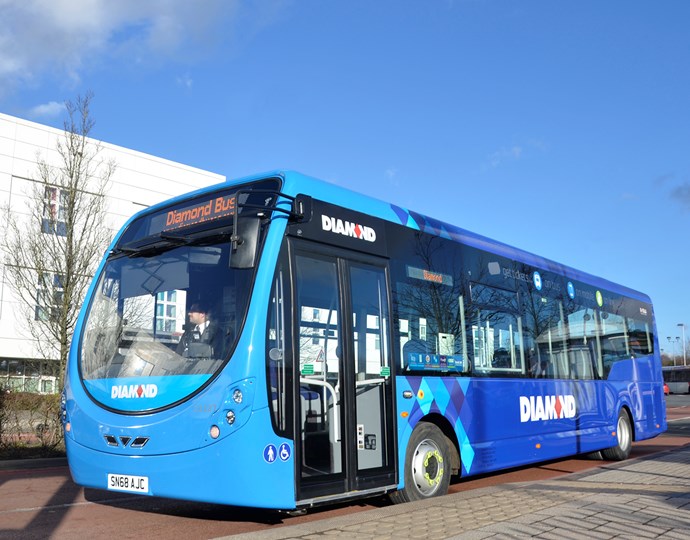 Coronavirus - Midlands Timetable Changes
16 March 2020
West Midlands
Worcester and Warwickshire
Following the latest government advice for people to work from home, socially distance and undertake only essential travel due to the Coronavirus pandemic, there has been a significant reduction in people travelling. As a result, Diamond Bus will be reducing the frequency of bus services over the coming days until further notice.
Diamond West Midlands Update:
Further Timetable changes will commence from Sunday 12th April. Please continue to check our West Midlands Service Update page for more information.
Diamond Worcestershire Update:
Further Timetable changes will commence from Sunday 12th April. Please continue to check our Worcestershire Service Updates page for more information.
General Information:
Public transport provides a vital role in keeping the country running and ensuring critical sector workers in the health and emergency services can fulfill their roles. Therefore Diamond will continue to operate services at a reduced rate in order to keep vital key workers moving around the region.
The health and safety of our staff and passengers is of upmost importance and we would ask passengers to respect government and NHS information - follow hygiene guidelines and practice safe distancing wherever possible. We are reviewing the situation daily, and monitoring the numbers of passengers we are carrying and will revise our service levels should the need arise.
Bus and coach operators have extensive cleaning regimes that maintain high levels of hygiene for passengers to protect the health and well-being of their customers and employees. These regimes are carefully monitored and reviewed, and operators are introducing enhancements as necessary. If passengers have concerns about cash handling in the current environment, we have facilities to pay electronically either via contactless payment on-bus or m-tickets on your mobile phone.
Tickets & Passes:
In response to the ongoing developments, we have had to take the difficult decision to suspend all refunds for tickets and passes sold after Monday 23rd March, with a duration longer than 1 day for both on-bus tickets and m-tickets.
Customers are reminded that unactivated M-tickets can remain unactivated in their app wallet until required, therefore please do not activate your m-ticket unless you know you will travel for its full duration. As a short term measure customers are advised to purchase day tickets, single or returns until further notice.
Customers who have purchased selected passes before Monday 23rd March, may be eligible for a refund on their pass if they are no longer able to travel or use their pass due to Coronavirus. The criteria for eligibility and a refund request from is available here.

If customers have any concerns they should contact us via email. We are dealing with an unprecedented situation and we would ask customers to be patient and to treat all our staff, who are continuing to provide a vital service in challenging circumstances, with respect.
We will be monitoring the situation daily and as the situation evolves, Rotala Plc and all of its Bus and Coach Operations will continue to engage with government and follow the guidance from public health bodies and local authorities. We will continue provide advice and updates to customers via our websites and social media pages.
We have updated our Coronavirus Policy and Procedures, which can be viewed here.
For the latest guidance from the British Government, please visit: https://www.gov.uk/government/topical-events/coronavirus-covid-19-uk-government-response
For the latest NHS advice please visit https://www.nhs.uk/conditions/coronavirus-covid-19/
This page was last updated on 9th April 2020.