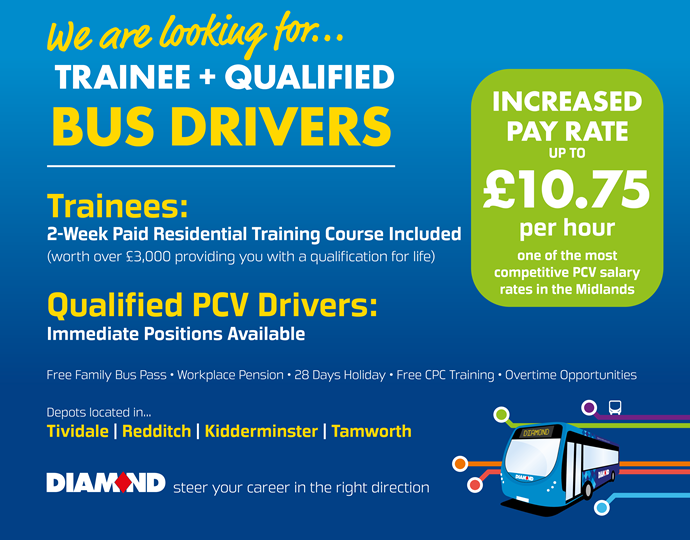 We recruiting for Bus Drivers
01 February 2022
West Midlands
Worcester and Warwickshire
Are you looking for a change in direction?
Have you thought about a career as a Bus Driver? 
We have positions available for Qualified PCV Drivers at depots across the Midlands.
We're also looking for people from other sectors, with the right customer services skills to join our training programme and re-train as a Bus Driver.
Trainees:
2-Week Paid Residential Training Course Included (worth over £3,000 providing you with a qualification for life)
Qualified PCV Drivers:
Immediate Positions Available 
Depots located in... Tividale | Redditch | Kidderminster | Tamworth
Free Family Bus Pass • Workplace Pension • 28 Days Holiday • Free CPC Training • Overtime Opportunities
Recently increased pay rate for drivers
We recently increased our pay rates for drivers, with a Fully Qualified PCV driver now earning up to £10.75 per hour, which is one of the most competitive PCV salary rates in the Midlands. 
Visit our careers page to see full job descriptions and find out more about moving your career forward with Diamond Bus.