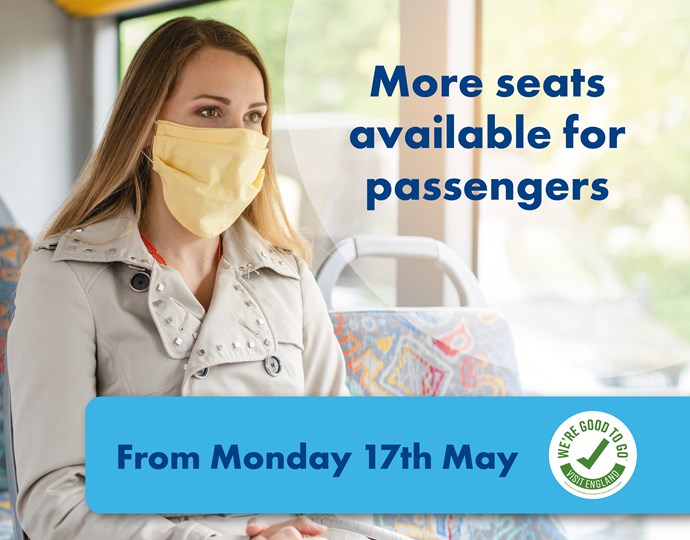 More seats to become available to passengers
14 May 2021
West Midlands
North West
Worcester and Warwickshire
South East
From Monday 17th May, more seats will become available for passengers on our buses following an easing of Government restrictions and new industry guidelines.
As we move into Stage 3 of the Governments roadmap out of lockdown and we are set to see more people coming together safely in indoor spaces, a new industry-wide risk assessment review, led by the Confederation of Passenger Transport (CPT) and has concluded that in some circumstances it is now acceptable to use every forward facing seat on the vehicle.
This means that from Monday, more seats will become available for passengers to use during busier travelling times. As restrictions ease and passenger numbers increase, we are expecting to see buses become busier than they were during the periods of lockdown. This means it will not always be possible for passengers to socially distance.
We are doing everything we can to run as many services as possible, this includes putting on extra buses on some routes at busy peak times, but as Covid-19 infections fall, vaccination rates increase and government restrictions are being eased, more people are travelling and some bus services may become busier. Therefore on some services it may not always be possible to sit apart from others and some passengers may need to sit next to each other. 
This is an encouraging development for the bus industry, which means problems of overcrowding and people being unable to board due to the bus being at capacity, should now be much reduced and people can travel more freely and confidently.
Certain types of seats such as side-ways and rear facing seating will remain designated as not in use, however forward facing seating can now be used as required. The dedicated wheelchair space will be available for wheelchair users only. Buggies may be stowed in the Buggy/Wheelchair area, if no Wheelchair is onboard, however parents and children are not permitted to sit in the buggy zone and must be seated in the forward facing seats. Standing whilst travelling will still not be permitted on any service, and we request that passengers do not queue in the aisles when wishing to leave the bus, but press the stopping buzzer and remain seated until their next stop.
New seating signage and capacity levels will be clearly shown on all vehicles following the change next week.
Since June 2020 it has been compulsory, by law, to wear a face covering whilst travelling on all public Transport, unless you are exempt. During this next phase of easing, the wearing of face coverings is still a mandatory requirement. We continue to ask all those passengers who are not exempt, to wear their face covering fully over their mouth and nose for their entire journey – this includes when boarding and alighting. We are also asking passengers to keep windows open, to keep fresh air flowing around the vehicle whilst it is in service.
You should continue to keep space between you and others when it is possible to do so, such as at less busy travel times, when waiting at bus stops and bus stations. It is still recommended to continue to carry hand sanitiser with you when you are out and about in public and wash your hands regularly.
We are encouraging people to travel at off-peak times, if they are able. This includes avoiding early morning and afternoon school times as services are often busier at these times of the day. You can also check if the bus is going to be busy before it arrives at the bus stop, by using our passenger capacity feature* on the app. Please consider planning your journey in advance using the timetable information available on our website.
We still have lots of cashless methods of paying for your fare available, including on-board Contactless Card, Apple & Google Pay and pre-purchasing M-tickets from our Mobile App. You can still pay by cash, but we do have a no change policy currently, so please try to have the correct fare.
We are doing everything we can to keep our vehicles clean and safe, so more people can enjoy returning to travelling on our services. Our buses are thermo-fogged providing regular sanitisation with chemicals meeting the EN14330 test protecting against Covid-19 for over 24hrs and we have enhanced cleaning procedures for all touch points such as hand rails and seat backs. We also now hold the 'We're Good To Go' and 'Safe Travels' standard marks in recognition that our business is following government and industry COVID-19 guidelines.
We thank all our passengers who have continued to support us over the past few months and we look forward to welcoming back returning and new passengers who can now come back to travel with us with confidence.
*Diamond North West, Midlands and Worcestershire regions, not currently available in the South East.
 Page updated: 17th May 2021