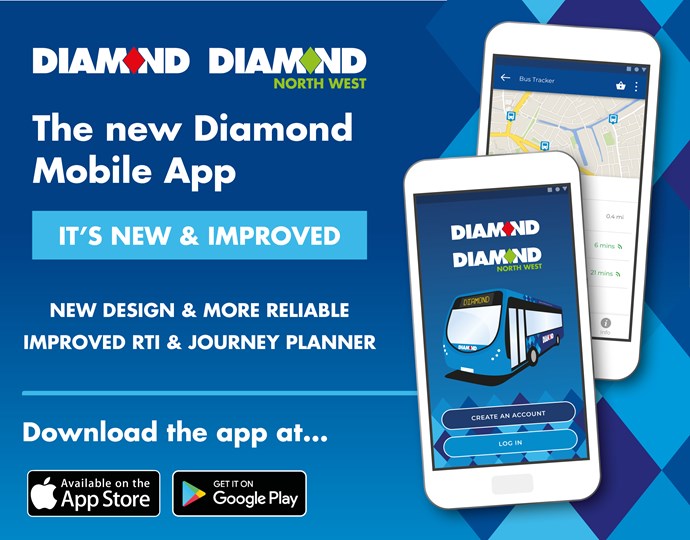 The new and Improved Diamond Bus App.
13 December 2019
West Midlands
North West
Worcester and Warwickshire
This week the Diamond Bus App has undergone a major update, with improvements made to the reliability of the app and a new design.
All our important features such as Bus Tracker, RTI, Journey Planner and Next Stop Announcements are available, and we have been working with our digital providers to improve these functions on this new version. Some new features such as a fare calculator and customer feedback will be added in the new year too.
Extra back office systems have been introduced to ensure the new app can handle the increased number of users, who rely on its facilities to help make their journey easier.
There are also some updates to your M-tickets. Visually you will notice that your photograph ID and QR Code have moved to the top of the m-ticket to make scanning under the Ticket Machine easier. We have also introduced an NFC blocking facility to address Apple and Google Pay conflicts, this means you can now scan your M-ticket without your mobile payment app opening at the same time.
The new app also features additional M-ticket security features, including dynamic QR Codes that change on a more frequent basis to reduce fraudulent ticket use. Existing app tickets will automatically update with the new system and there will be no need to change or re-activate your existing tickets. Current App users already need internet data to use their m-tickets this will continue in the new app as the new tickets will also need internet access to check their validity. When traveling, you will continue to show the driver your m-ticket pass to check your photo ID and scan the QR code on the ticket machine to record your journey.
The function to save your m-ticket to your phone home screen and use an M-ticket without the app or internet access will no longer be available. For customers who have been using this method, you will need to download the Diamond app and open your ticket in the app to continue using M-tickets in future. Your tickets will still be available in your online account and will be visible in your app wallet when you log into your account on the Diamond App.