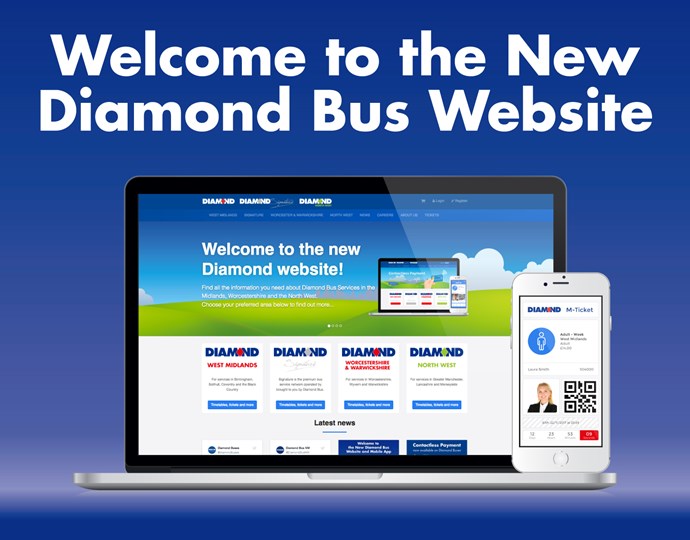 The New Diamond Bus Website is here!
18 October 2017
West Midlands
North West
Worcester and Warwickshire
We have been working on some exciting changes to the Diamond Bus website, which will be of great benefit to passengers and we are pleased to announce its launch today!
Track your bus...
Earlier this year we installed brand new ticket machines on all our buses, which included the latest in GPS technology. This means, that through our  website, we are now able to offer passengers access to our new Bus Tracker feature. Bus Tracker, enables you to locate the bus that you wish to catch and check how close the bus is to you.
Plan your Journey…
Our new Journey Planner, advises you on the best Diamond services to catch to your required destination, it will even show you how to get to the bus stop to catch your service. Our new website is now much more mobile compatible, which means you can plan your journey through the website on your desktop or while you are on the move on your phone.
New style tickets and passes…
Our online tickets and passes are changing too. With a new improved customer log-in area, you can manage tickets and your account much more easily.
With the launch of our new site, all of our bus passes purchased online will be changing to electronic m-tickets. You will be able to purchase tickets and passes through the website and save them to your phone. To travel, simply show your ticket on your phone screen to the driver when you board.
A new security feature means M-tickets will now feature a photo of the pass holder too, this enables you to transfer your ticket onto a different phone if you change your handset, but you can still be sure that your ticket can only ever be used by you.
We are very excited about the additional features we are now able to provide for Diamond Customers and we hope you enjoy exploring these new functions as part of your Diamond experience.
If you would like some more information about buying M-tickets or planning your journey with bus tracker and journey planner, visit our handy guides:
Bus Tracker Guide
Journey Planner Guide
Buying M-tickets Guide
Download the New Diamond Bus App here: