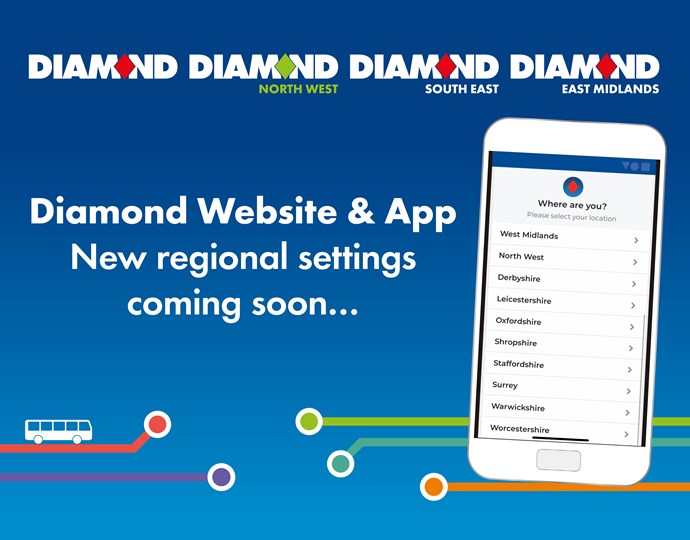 Diamond Website & App - New regional settings coming soon…
23 January 2023
West Midlands
North West
Derbyshire
Leicestershire
Oxfordshire
Shropshire
Staffordshire
Surrey
Warwickshire
Worcestershire
If you are a regular user of the Diamond Bus App, you may have noticed some new regional locations have appeared recently in your setting tab.
As Diamond Bus is an expanding business and with the recent acquisition of Diamond Bus East Midlands, we are making some changes to our regional settings on the website and app. These new "County" settings will help customers filter service information specifically for the region they are travelling in.
In the Diamond Bus App:
For most customers these changes will not affect your existing settings in the app, however customers using the "Worcestershire & Warwickshire" and the "South East" locations will soon be invited to re-select their regional settings to their individual county to filter services specifically operating in those counties. When you reselect your new region, you will also need to reselect any 'favourites' you have saved in your bus services or bus stops.
You can also select to receive our new Push Notifications for your new region in the app – by selecting this option any important network notifications will pop up on your mobile phone notifications screen to keep you informed about upcoming changes.
There will be no affect to your m-tickets or friends and family saved in your settings
On the Diamond Bus Website:
You will soon notice some changes to our website homepage, where our new County regions will also appear, so whether you live in West Midlands, Worcestershire, Surrey, Oxfordshire or any of the other counties in the Diamond network – you can select an area to suit your location. With our  recent Diamond Bus East Midlands expansion, we're now also including new services in Staffordshire, Leicestershire and Derbyshire.
You'll find a new search function, which will enable you to search for a service number in any region, or a place name to find routes which serve that location. We have tweaked our search setting so you should notice that this new function gives you improved results on your searches.
You will still be able to find all the important information such as ticketing, fares boundaries, maps, news and service updates
And welcome to Diamond Bus East Midlands customers:
The work we have undertaken allows us to bring our newest member of the Diamond family to our website and app and you will see service information for our new network in Burton, south Staffordshire and East Midlands very soon. We look forward to getting our new customers better connected with bus tracking and m-tickets on the Diamond Bus App – Why not download and sign up to the app today and you'll be raring to go as soon as services appear!