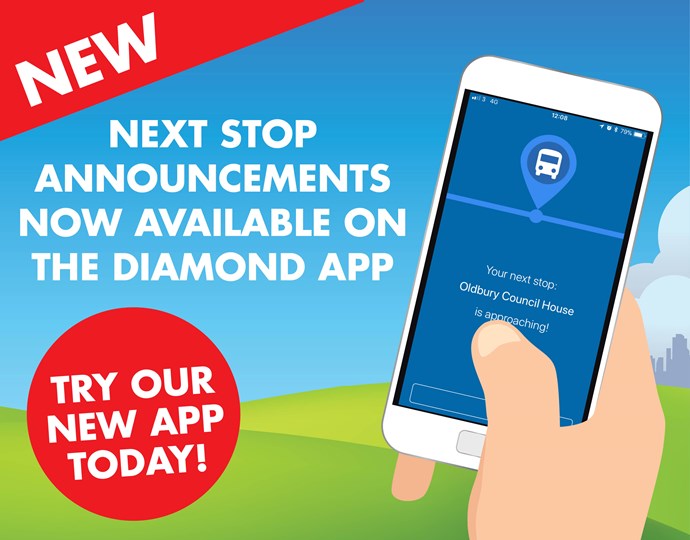 Next Stop Announcements now available on the Diamond App
20 April 2018
West Midlands
North West
Worcester and Warwickshire
Our new Diamond App had another upgrade recently, as we added 'Next Stop Announcements' to the list of great features our app already has to offer.
Now, when you are travelling on a Diamond Bus, you can receive an on-screen notification and an audio alert as you approach each stop on your service. Diamond Bus are committed to making bus travel accessible to everyone and this new addition to our app really encapsulates what we are trying to achieve in this area. By including audio alerts, those who have visual impairments can now receive next stop announcements direct to their smart phone, giving them greater freedom to travel independently.
This fantastic feature also means that passengers who dont use the bus very often, or are traveling on a route they are not familiar with can also feel assured that they will get to their destination easily by using our next stop feature.  
This latest app update adds to the features that Diamond have already invested in to improve the customer experience when travelling with us. Customers have told us that regular information about bus services and disruption is a key element to improving their traveling experience, so we have worked with our appointed digital agency to offer new technology features, such as Bus Tracker, which allows you to see where the service you are waiting for is on a map on your desktop or mobile phone. 
We are also continually working to improve the availability of at-stop RTI for Diamond services. This feature is available on the Diamond App and we are working in partnership with local authorities to enable this information to be displayed at RTI enabled bus stops in the future.
To enable Next Stop Alerts on your phone, simply download the latest version the the Diamond Bus app and enable "Location" and "Notification" options in your app settings.


Download the Diamond Bus App: