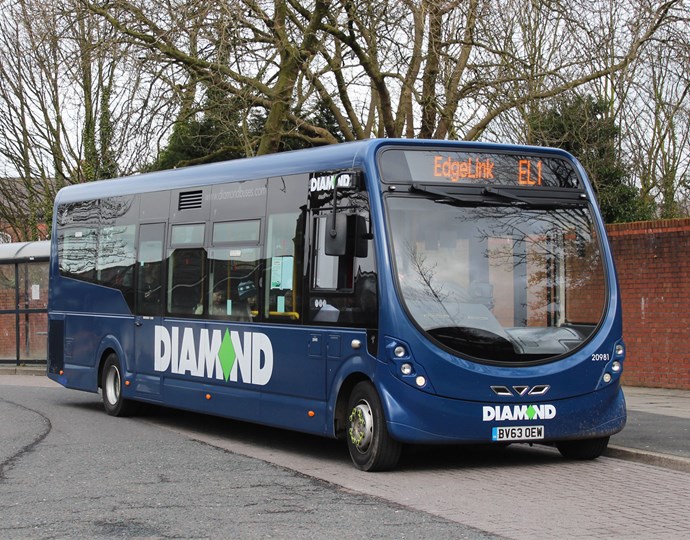 North West September Service Changes
21 August 2018
There will be a number of Diamond service changes in the North West region from Sunday 2nd September 2018, please see a summary of those changes below.
The following services may have timetable, route or frequency changes:
282: Journeys will no longer serve Stokoe Avenue, owing to recurring difficulties involving parked vehicles.
517: The Schoolday journey operating from Rivington & Blackrod High School is re-timed to depart the school at 1515. Timings through the journey are also changed to reflect the earlier departure. There are also minor changes to timings on all journeys, including departures from Middlebrook Asda being 4 minutes later.
574: The timetable will revert to the format that was in place before the change in July, however, journeys departing Bolton Interchange in the afternoons will depart 1 minute earlier.
575: The serving will revert back to its 'schoolday' running, allowing extra time during peak hours.
683: Journeys from Leigh will mostly depart at 17 and 47 minutes past the hour.
695: Departures from Leigh are retimed to leave at 20 minutes past the hour.
715: Short journeys between Westhoughton and Bolton Interchange are retimed. There is also a change in the route heading into Bolton, with journeys operating from Deane Road via Ormrod Street and Great Moor Street to Newport Street, omitting Trinity Street and Black Horse Street.
767: The afternoon journey at 1540 is re-timed to operate 5 minutes later.
768: The route has been altered to run via Hale Road.
773: The morning journey is retimed to depart Oldfield Brow at 0802.
787: Route changed to avoid Hale level crossing.
789: The afternoon journey is retimed to leave Blessed Thomas Holford at 1540.
792: Slight change in route to partially replace withdrawn service 791.
New timetables will be available for these services shortly.
The following services will no longer be operated by Diamond North West from this date:
788 (Partington to Blessed Thomas Holford College)
913 (Blackburn Road to Turton High School)
917 (Walkden High School to Boothstown)
918 (Daisy Hill to Rivington & Blackrod High School)
994 (Little Hulton to Eccles Sixth Form College)
If you have any questions about these changes, please get in touch.
You can call our Atherton depot on 01942 888893, our Eccles depot on 0161 707 1674, or via the Contact Us form on the website.