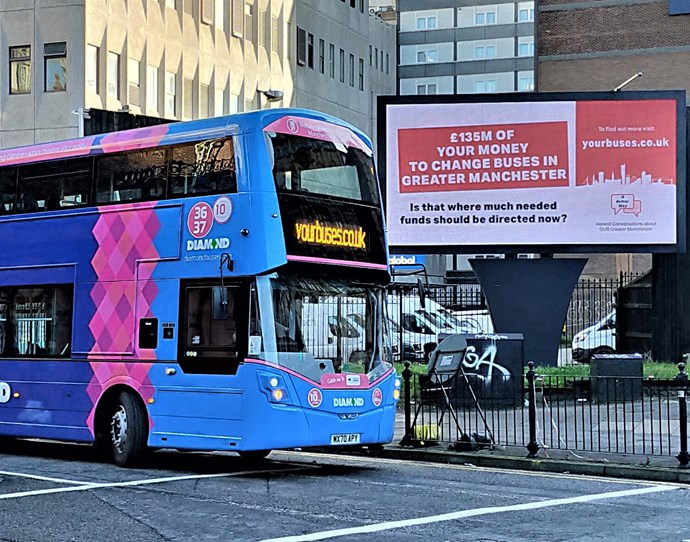 Diamond North West Promoting A Better Way
29 November 2022
Diamond North West joins other bus companies in Greater Manchester to ask passengers and council taxpayers in the region to save hundreds of millions of pounds and respond to the Greater Manchester 'Doing buses differently' public consultation with more of the facts.
The Mayor and local councils across the 10 boroughs of Greater Manchester are currently running a consultation on the future of buses in the region with a view to taking control of this critical service.
Bus Companies are however pointing out that any transfer of powers will, as the councils' own proposal details, cost Greater Manchester taxpayers at least £135m. This colossal figure only covers the transfer of responsibilities and doesn't provide the public with any future investment or service improvement and creates no change to today's network
£20m of public funds has already been spent on preparing the consultation which is being re-run due to the impact of COVID-19 and the extremely low response rate received last time.
We are keen for everyone to understand what is being proposed and how services may be impacted in the future. 
Evidence from the Greater Manchester Combined Authority (GMCA) proposal, which wants local councils to run buses, suggests that:
Individual bus ticket prices will have to increase every single year above inflation
Services will be reduced on the busiest routes across the region
The number of passengers using bus services will drop by 24% compared to today 
The 500+ page proposal, which operators have studied in depth, doesn't present any examples of future investment, doesn't detail any service expansion plans and doesn't tackle the very real problem of traffic jams across the region and as such doesn't speed up journeys for bus passengers and other road users.
The £135m cost to get to a 'no change' stage will need to be funded through additional charges against individual council tax bills.
Bus Companies believe the proposal is going in the wrong direction and there is a better way to deliver improvements. They also believe that the £135m, the cost to transfer to local council control, could be spent in more effective ways and on higher community priorities.
They are suggesting that local councils should focus investment on improving roads and junctions and reducing congestion (Manchester is the 5th most congested city in the UK and the 53rd in the world (https://inrix.com/scorecard-city/?city=Manchester&index=53 ) a major issue which significantly impacts bus performance and causes road users to waste nearly 4 days every year sat in traffic.
Additionally, every bus in Greater Manchester is already fully accessible but unfortunately not all supporting infrastructure, which is managed by local authorities, such as bus stops and stations are. These Bus Companies are suggesting that if additional council tax funds are going to be spent they should be directed at providing a network accessible for all. 
Bus operators are expert in delivering the required investment to improve services and there are ambitious plans already being delivered, such as our own investment in 103 brand new Diamond North West buses bought into service in the last year at a cost of £20m, money the public have not had to provide. 
Throughout the COVID pandemic buses have continued to provide a critical service to the Greater Manchester public and service levels have been maintained despite passenger numbers of less than 50%.
Bob Dunn, Managing Director for Diamond Bus North West commented:
"Greater Manchester's bus proposal and consultation is going in the wrong direction.
"It makes no sense, particularly at this historically challenging economic time, to burden the public purse with a £135m bill.
"Everyone recognises and wants to provide a better network for our critical bus services, but we don't agree that local council control will provide that. There is a better way.
"Millions of pounds of public money has been spent so far and hundreds more could be wasted if the proposal is implemented. It isn't worth it if ticket prices go up, services will be reduced and there are no future investment plans.
"We believe it is better for local councils to use public resources to improve bus stops and stations and work intelligently to reduce congestion and speed everyone's journeys across Greater Manchester.
"It is important that the Greater Manchester public responds to the plan to spend a £135m on bus control but it is critical everyone understands the facts and the impact of any transfer."
The 'Doing buses differently' consultation, which was launched in December 2019, has to date only attracted around 8500 responses, which represents less than 4% of daily bus users in Greater Manchester.
Due to the length of the consultation document (500+ pages) it may also be difficult for all respondents to have the time to understand the changes being proposed, and the impact they may have on buses in Greater Manchester.
A new website has been launched that describes a better way and how £135m can easily be saved from the public purse and individual tax not affected by transferring control to local councils. www.yourbus.co.uk
A wider communication campaign, funded by Diamond Bus North West, is also being rolled out so that the Greater Manchester public can have access to the full detail and can make a more informed choice.
Bus users and Greater Manchester residents and taxpayers are being asked to read about the better way and respond to the 'Doing buses differently' consultation before 29th January 2021.
Further information about how to have your voice heard is available here https://www.gmconsult.org/strategy-team/greater-manchester-bus-consultation/