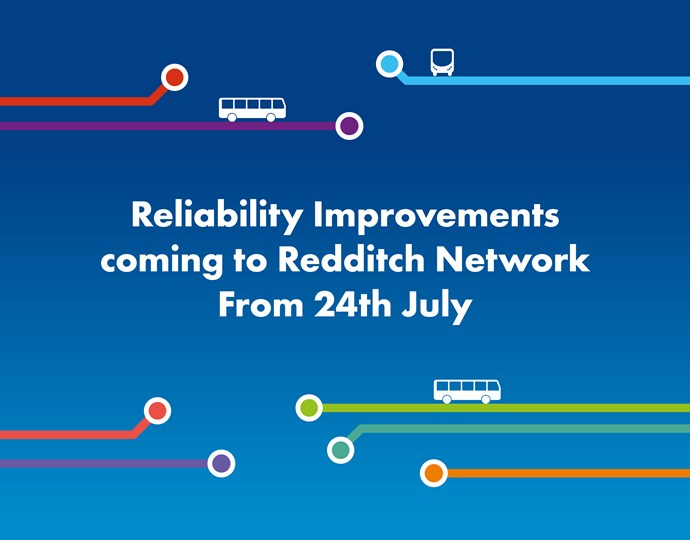 Redditch Reliability Improvements
18 July 2022
Worcester and Warwickshire
It has been widely reported that Diamond Bus services have suffered from an increase in reliability issues in the Redditch area recently.
To combat current financial pressures, Diamond Bus had recently reviewed how we operated our services more effectively, which included interworking services and reducing stand time to reduce labour and operating costs. These changes unfortunately meant that a number of reliability issues occurred and that passenger complaints rose significantly. Recent extreme weather has further compounded problems, with high temperatures exceeding 30 degrees also causing issues with vehicle performance.
Having identified the duty changes already made were not effective, we have been working hard to manage and reduce the issues, including putting extra resources in place to increase supervision, making Peak-Time adjustments and putting additional running time in. However in the face of continued reliability problems, it has been decided to return our operational schedules back to the original duties to address these issues fully. These change will take affect From Sunday 24th July. The changes are internal duty changes and there are no changes to published timetables, however passengers should see services return to more reliable service levels after this implementation. 
We apologise most sincerely for any inconvenience our services have caused customers. As we have set out in our recent press releases, we face some serious circumstances with many loss-making services. As a company, we felt it was better to look for ways in which we could reduce costs initially to save these services before we have to consider removing some of them completely.
At this time, it is our intention to continue to work with the local authorities and the recently announced Worcestershire Public Transport Task-Force, to identify how the bus network can be improved to meet the needs of the local community and be operated viably moving forward. We have provided suggestions to task-force members and await to see what decisions will come from this new partnership.
We would like to re-iterate, that if customers are experiencing problems with their bus service we always request that you let us know. The details you provide to us directly help us to focus our attention, to analyse the impact of the changes we make and improve. We encourage customers to get in touch with us directly at comments@diamondbuses.com