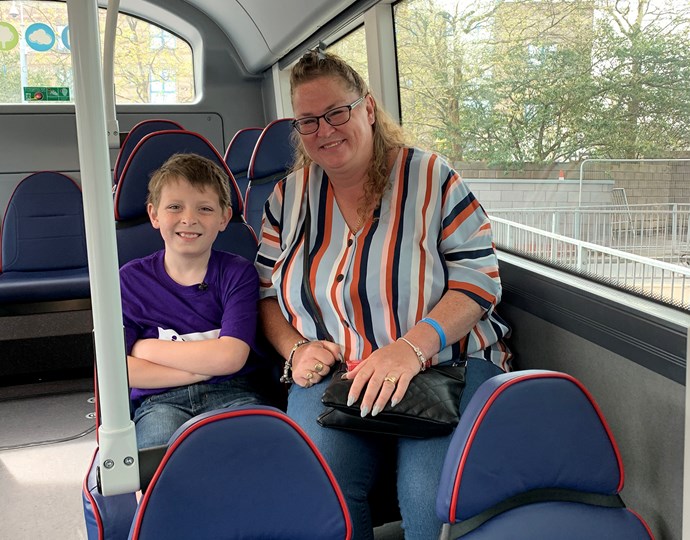 Ryley and Amanda's Charity Bus Journey
24 April 2019
West Midlands
North West
Worcester and Warwickshire
Young Diamond Bus Fan, Ryley will be setting off on a big bus adventure with his Nan this summer, when they will travel from John O Groats to Lands End using only local bus services.
9 year old Ryley and Nan Amanda from Stourbridge, will be celebrating Ryley's 10th Birthday on the road and raising money for The National Autistic Society in the process.
Ryley, who suffers with Autism, has had an interest in buses since being a toddler and now has an encyclopedic knowledge of all the bus routes in the West Midlands. His love of buses helped him to learn to count to over 1,000 by the time he started nursery, so the nursery changed the numbers on their wall to include big numbers too!
Ryley and Amanda regularly take bus trips together around the local area, then one day Ryley asked if they could do a 'big trip' and joking his Nan replied "What about John 'O' Groats to Lands End!". The idea stuck…  and the planning began. Amanda told us "I kept thinking 'I'm Nanny, I'll do anything for my family, so why not do this for Ryley, lets take his 'hobby' and do something big for his 10th Birthday"
Their trip begins when they leave John O Groats on Monday 22nd July 2019. It will take them 23 days to complete, visiting 40 different places, using 60 bus services and has taken a great deal of planning. Soon after deciding to do the trip Amanda & Ryley decided they would like include raising money for a charity that means a lot to them along the way. As well as arranging bus passes, accommodation, bus times and meals, they have also been busy planning raffles, sponsorship, charity collections and publicity for their fundraising adventure.
So far all their hard work is paying off, as companies up and down the country have offered to help them by providing free bus passes, accommodation and donations including a football signed by West Bromwich Albion Football Club which raised over £300 in a raffle and lots of other prizes donated by local businesses.
Diamond Bus spent a great morning with Ryley, Amanda and the team at BBC Midlands Today filming for their appearance on the evening news on 23rd April, you can see clips of the filming here:
https://www.bbc.co.uk/news/av/uk-england-birmingham-48040064/bus-numbers-helped-boy-with-autism-learn-to-count
Everyone at Diamond Bus wishes Ryley and Amanda the very best of luck for their big adventure and we hope that fellow Diamond passengers will get behind them and support their fundraising ventures.
If you would like to help Ryley and Amanda, you can donate at their Just Giving Page:
https://www.justgiving.com/fundraising/ryley-nanny4nas
Their next fundraising event is a Family Fun Day on Sunday 30th June at Brittania Sports Bar, High St, Wollaston, where there will be great Family fun activities and fundraising events all in aid of The National Autistic Society …so please give them as much support as you can.
About The National Autistic Society:
The National Autistic Society teaches, assists and gives advice & support to Autism sufferers and their families. As a registered charity they need donations to be able to offer the much needed services they provide. More can be found out about the work they do at: https://www.autism.org.uk/