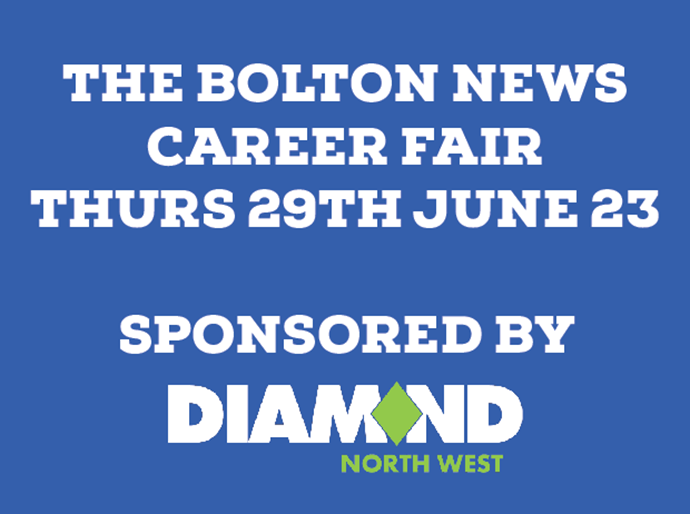 Announced as Event sponsor of The Bolton News Jobs & Careers Fair
05 June 2023
Diamond Bus North West are Proud to be announced as the event sponsor of The Bolton News Jobs & Careers Fair.​
Last year Diamond Bus North West were named Company of the Year at the Bolton News 'Build Back Bolton Awards.​
We are a company who supports the region by employing directly from the Bolton community and have recently been announced a member of the Greater Manchester Good Employment Charter.​
Being a transport provider, we have a responsibility to keep the region moving and are constantly looking for bus drivers to help us achieve our goals.​
The uniqueness of our recruitment process is that we offer FREE* training to become a Bus Driver, you just need the drive and desire to achieve your licence and you'll have a career for life.​
All we ask is that you have 12 months driving experience and no more than 6 penalty points on your licence. ​
​Why choose this industry you ask?
We are proud for what we have achieved as a company over the last 12 months and look forward to welcoming you in joining us at Diamond Bus North West​.
So why would you join us in either a Bus Driving role or in a Engineering Role.
Do you have what it takes to help grow and support Diamond's business? We are looking for great people who can make things happen, people that can make a difference.
Our aim is to deliver a frequent, reliable, clean and friendly travelling environment for our customers and working for Diamond Bus you'll be one of the pioneers being part of one of the first operators in the first phase of franchising and creating the Bee Network within Greater Manchester.
Diamond offers you a competitive starting salary. with other benefits including a staff & family travel scheme.
With over 70% of our fleet being brand new vehicles with them being 20 plate or newer come and drive some new buses.
We have two departments that we are recruiting for at the moment these are Bus Drivers for our Operations Department and Mechanics in our Engineering Department. 
Click the Image below on the Job you would like to know more about.
*Unless you leave the business within two years