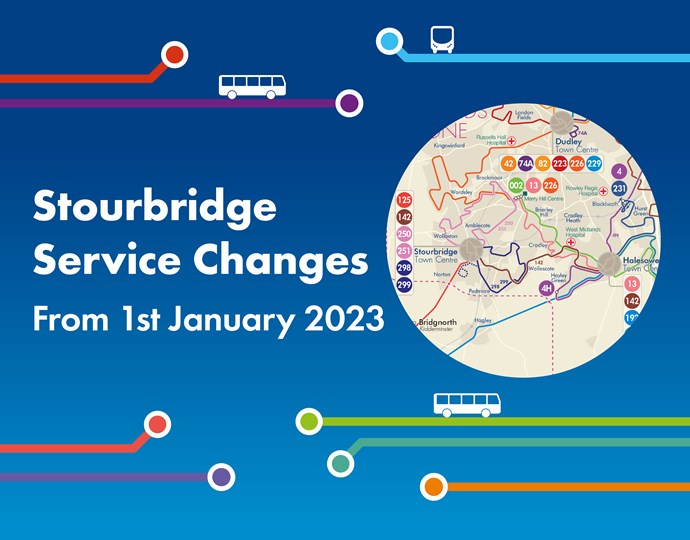 Stourbridge Network Changes
03 November 2022
Our current Stourbridge network of tendered services will be changing from 1st January 2023
Services 142/250/251/298 and 299 are all up for re-tendering. Transport for West Midlands, who we operate these services on behalf, have reissued tenders for these services but with a number of service changes – these new services will commence on 1st January 2023.


142 - Will changes to hourly and will be extended to Merry Hill from Stourbridge along the current National Express 28 service.
142/A - Will operate hourly between Halesowen and Merry Hill. This service will follow the 142 between Halesowen and Wynall then operate via the 298/299 service (Grange Road, Lye, Brook Road and Brook Holloway).
250/251 - This service will be renumbered 25. Will operate half-hourly between Stourbridge and Dudley. The Amblecote Road section will be withdrawn but is alternately covered by the National Express 8 service.
This new service will operate as the current 250 between Stourbridge and Merry Hill then continue to Dudley via the current National Express 11/11A service.
298/299 - This service will no longer exist with the new 142A service operating the current 298 route between Stourbridge and Brook Holloway.
Our current network will operate until 31st December 2022. Diamond Bus have applied to tender for these services from 1st January 2023 - Please look out for further passenger notices in due course with updates. 
We would like to thank all of our loyal passengers for your continued patronage over the years we have operated these services and we hope in the new year we can still continue to operate the new Stourbridge Network for you.


Transport for West Midlands are currently engaging with bus passengers across the West Midlands on wider service changes.
Details including how to contact them direct and receive updates are available at the following link;
https://www.tfwm.org.uk/plan-your-journey/ways-to-travel/buses-in-the-west-midlands/upcoming-bus-changes/bus-service-changes-from-1-january-2023/