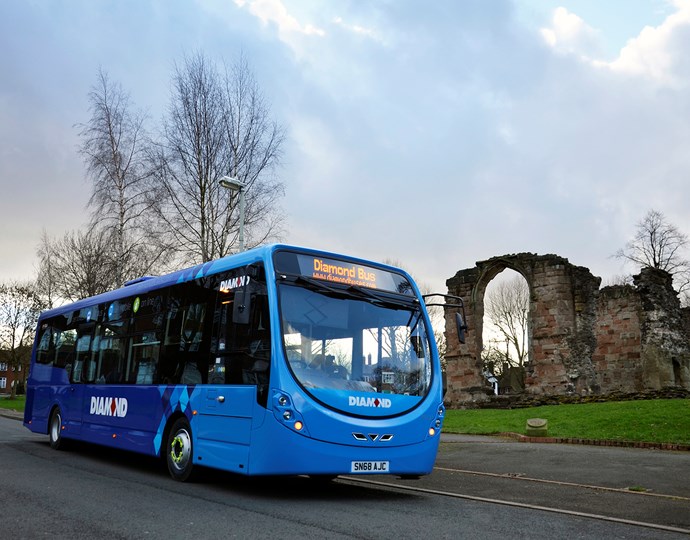 Diamond Bus and Warwickshire County Council Statement
10 June 2022
West Midlands
Worcester and Warwickshire
Joint Warwickshire County Council and Diamond Bus Statement on the current matters relating to Public Transport in Stratford upon Avon.
On Monday 30th May 2022, Diamond Bus took over the operation of bus services previously operated by Johnsons Coaches mainly in and around Stratford upon Avon.
The move to a new operator was made as quickly as possible to minimise disruption in service as Diamond Bus took the opportunity to ensure that residents of Stratford and the surrounding villages continued to receive their much-needed public bus services.
With the transition to the new operator there have been some service operational issues as drivers continue to build their knowledge around the complex routes and timetable.
A Warwickshire County Council spokesperson has said, 
"Officers have been working very closely with Diamond Bus to identify and resolve any anomalies within the complex routes and timetables to ensure as little disruption as possible. It's clear that Diamond Bus are doing what they can to try and resolve the situation as quickly as possible and have already invested in extra technology to bring about a swift resolution. We would like to sincerely apologise for the current situation but please be assured we are doing all we can to fix it".

A spokesperson for Diamond Bus has said, 
"We took on the Johnsons Excelbus contracts to ensure that residents continued to receive the vital bus services they've been used to. Unfortunately, there have been a number of matters that required immediate and ongoing attention and we'd like to reassure residents and passengers that we will resolve these as quickly as possible.
Adapting to a complex set of routes and timetables has proved challenging however we have invested extra time and committed additional resources to address this.

We would like to echo the Council's offer of sincerest apologies and please be assured we are doing all we can to provide a swift resolution to this very unfortunate situation."