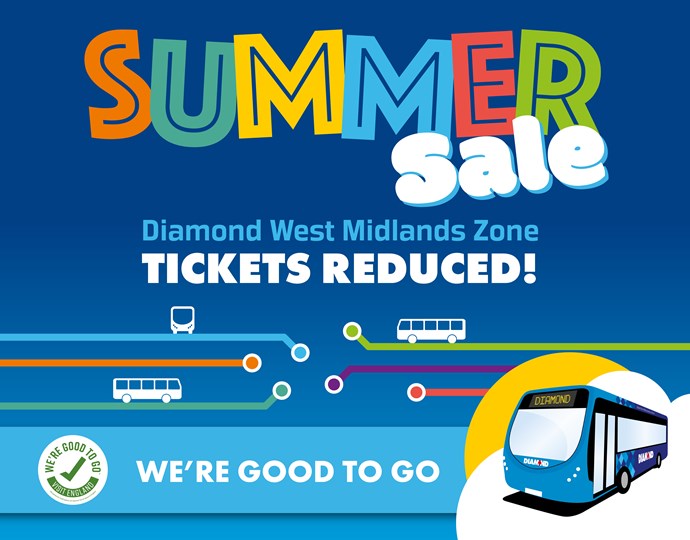 The Diamond Bus West Midlands Summer Sale
17 June 2021
This summer we are reducing our West Midlands Zone fares, to help you get out and about in your local area by bus.
From Monday 21st June there will be some great savings to be made on our WM Zone tickets, whether you are buying on-bus from your friendly driver or from our Mobile App.
Perhaps you are planning a shopping trip, meeting up with friends or getting back to the office – Whatever your travelling needs, we've got a ticket to suit you. You can buy onboard using contactless payment, Apple & Google Pay. We accept cash too if you prefer, but please do have the correct fare as we are unable to issue change at this time.
You can make even more savings when you buy your tickets in advance from the Diamond App, with selected tickets cheaper on the app than on-board. Its quick and easy to buy tickets on our app – you can even buy and gift tickets to your friends and family, to get them on the bus too!
We are back to a normal timetable schedule on most of our services and recent guideline changes allow us to carry more people onboard now too. If you haven't travelled with us for a while we have lots of processes in place to keep staff and passengers travelling safely and we were recently awarded the "We're Good to Go" standard mark in recognition that our business is following government and industry COVID-19 guidelines.
It may be a few more weeks until we can fully go back to normal, but there are still activities we can enjoy until then and our local towns are really looking forward to your support. If you have been thinking of changing the way you travel into town, now is the perfect time to try leaving the car at home and benefit from our great low cost bus services.


Take a look at our Summer West Midlands savings below:
 

NEW ON
BUS PRICE

NEW DIAMOND
APP PRICE

West Midlands Adult Day

The Peak & Off-Peak Day ticket options will be

removed and there will be one ALL DAY price.

Was £4.40
£3.80 
£3.60

West Midlands Adult Week

Was £17.00 – save upto £4.40!

  

£14.00
£12.60

West Midlands Adult Month

Was £50 – Save £5 when you buy on our App
£50.00
£45.00 

West Midlands Family Day

Was £8.00 – Save up to £1.65
£6.75
£6.35

West Midlands Child Day

Was £2.20 – save up to 40p
£1.90
£1.80

West Midlands Child Week

Was £8.50 – save up to £1.60
£7.25
£6.90
West Midlands Child Month
£25.00
£25.00
 
 
 
...and don't forget we also reduced some of our Sandwell & Dudley and Diamond Value fares in March too and those are still available at those great low prices! Check them out here
Plan ahead to make your journey a smoother one…
All of our latest timetables and service information is available on our website or download the Diamond Bus app
If you haven't travelled by bus for a while, check out our latest travel guidelines here