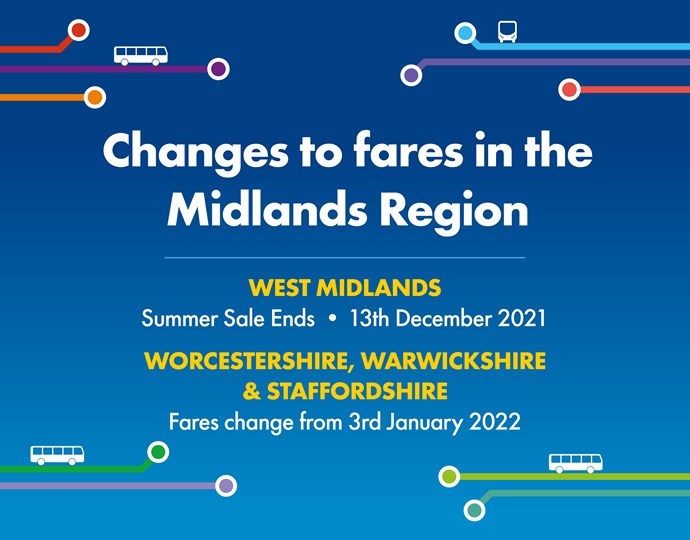 Upcoming Changes to Diamond Midlands Fares
01 December 2021
West Midlands
Worcester and Warwickshire
There will be some fare changes across the Midlands region from Monday 13th December 2021 & 3rd January 2022.
2020 and 2021 have been a challenging time for the Diamond Bus business, with increased operating costs and reduced patronage, some fares have reluctantly been increased to ensure the commercial viability of our services.
We continue to be committed to offering our customers the best value fares possible, keeping bus travel affordable for all and investing in our business to improve our services to passengers. During 2020 and 2021, we continued to invest in new modern vehicles, bringing cleaner and greener buses to the region, we invested in new onboard technology to enable passengers to pay for their fares in a more flexible way in line with a new hybrid way of working that has emerged since the pandemic struck.
A national shortage in qualified PCV drivers has affected bus companies across the country, this means payrates for employees have significantly increased over the last year in order for us to recruit sufficient drivers and retain our current employees at a competitive salary in the driving industry. Esculating fuel costs also play a significant role in our increasing business overheads.
The following changes will come into effect during December and January:
West Midlands:
In Summer 2021 we reduced some of our West Midlands fares in our Diamond Summer Sale. From Monday 13th December 2021, our West Midlands sale prices will come to an end and some fares will change.
Fares in West Midlands will now be price matched in line with our local competitors, and many WM tickets will continue to be available via the Diamond app at discounted prices to those available on-bus. Although some fares may have increased following the end of our Summer Promotion, in many cases, our revised prices are still the same or lower than they were in January 2020.
Worcestershire, Warwickshire & Staffordshire:
There will changes to fares in the Worcestershire area from 3rd January 2022. Following a price freeze in January 2021, unfortunately some fares will increase in 2022.
Fares in Worcestershire and Staffordshire will be increased in line with the national customer price index and whilst some local fares have risen, our Diamond Network fares will continue to be frozen at 2019 prices.
New fare prices available to view here: