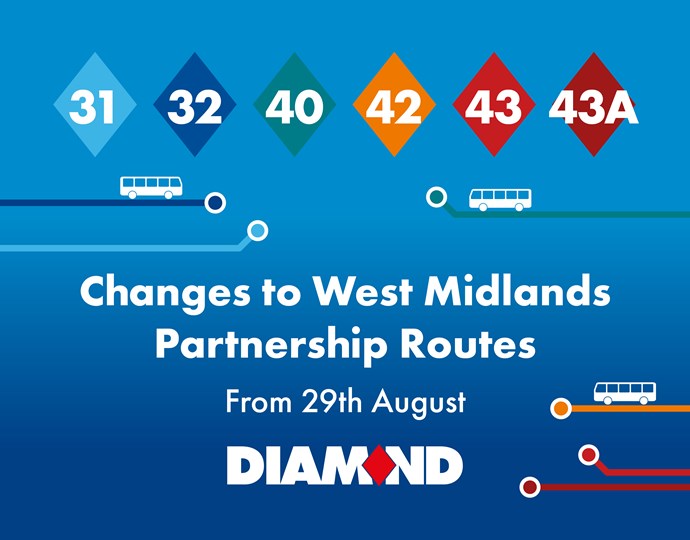 West Midlands Bus Partnership Route Changes - 31, 32, 40, 42, 43 & 43A.
24 June 2021
There will be some changes to the current West Midlands Bus Partnership Routes from 29th August 2021, from this date these services will no longer be operated on a partnership basis with National Express West Midlands.
Diamond Bus will be operating separately with new timetables and the following service changes:
31 Walsall to Mossley - Diamond will operate a new frequent timetable, up to every 5 minutes between Walsall & Bloxwich and every 10 minutes between Walsall and Mossley, Mondays to Saturdays and every 15 minutes on Sundays.
32 Walsall to Lower Farm - Diamond will no longer operate on this service.
40 West Bromwich to Wednesbury - Diamond will operate a new 15 minute frequency, Mondays to Saturdays
42 West Bromwich to Tipton - Diamond will operate a new timetable up to a 20 minute frequency, Mondays to Saturdays. Diamond will no longer serve the Tipton to Dudley section of the 42 route and will terminate at Tipton Rail Station.
43/43A West Bromwich to Bilston - Diamond will operate a new timetable up to a 20 minute frequency, Mondays to Saturdays. Diamond will no longer serve the 43A section along Loxdale St and all Diamond 43 services will operate via Bert Williams Leisure Centre.
42/43 West Bromwich to Great Bridge - The combined timetable of our new 42 & 43 services will offer a 10 minute frequency between West Bromwich and Great Bridge.
We'll be returning to our distinctive Diamond blue livery buses and providing you with our best rate fares available on the Diamond network. You'll still be able to enjoy the same enhanced onboard Diamond services such as next stop screens and passenger Wifi – all at our great value prices.
After 29th August, our current ticketing agreement with National Express will come to an end. This means that National Express Tickets will no longer be accepted or sold on our services. Diamond Value tickets will also no longer be valid or issued on NX services along these routes. We will continue to accept nBus, Swift and Swift Go multi-operator tickets on all of our services.
At Diamond Bus we're committed to providing affordable bus journeys for all and with Diamond Value, you can enjoy our cheapest range of tickets on all of our former 'partnership' routes. You can purchase all tickets from the Value range and connect with other Diamond Value services. If you want to travel further on our network a full unlimited range of Diamond tickets is now available to you on these routes. 
With the Diamond Bus app you can also buy selected tickets cheaper than if purchased on bus, giving you even more savings when you choose to travel with us! With a Diamond Value Day m-ticket at just £2.70 and a Diamond Value Week at Just £9.50, we really can provide you with unbeatable prices on our Diamond Value Services.
New Tap&Go Fares Coming Soon!
We'll also be introducing a new range of Tap&Go fares. If you are looking for flexible fares rather than buying period tickets Tap&Go is for you. 
Tap On the bus when you board with your contactless card or device, then simply Tap Off again when you leave the bus. Do this each time you travel on our services and we'll calculate the best fare for the journeys you have taken. You don't have to decide which product to buy before you travel, There's no need to carry a ticket with you, just remember for the best value – Tap On and Tap Off with the same payment card each time and we'll work it out for you! We will also be offering a new Tap&Go 3-day capped ticket... ideal if your working patterns have changed recently and you dont need to travel all week long. 
 You can find out more about our reasons for leaving the partnership agreement here