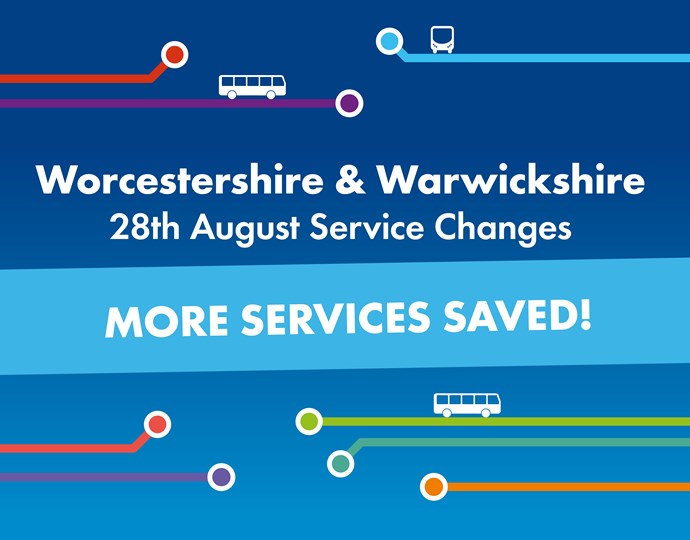 Worcestershire & Warwickshire August Service Changes
11 August 2022
Worcester and Warwickshire
Diamond Bus is pleased to announce that following a period of review, the majority of services in the Redditch & Kidderminster area have been saved from cancellation at the end of this month.
Diamond Bus has worked extensively with Worcestershire County Council to find a solution to enable vital bus services to continue with support from local funding.
Councillor Mike Rouse, Cabinet Member for Highways and Transport, said: "We've worked closely with bus operators in the past few months to come up with a solution that benefits the residents of Worcestershire.
I'm delighted to hear that an agreement has now been reached. Of course there is still a way to go to secure the future of bus services but this Council is committed to improving all forms of transport."
A package of measures has been agreed which includes significant funding from Worcestershire County Council, changes to services during times where they are not widely used (such as late evenings and early mornings) and a review of local bus fares.
As part of the new agreement, there will be some fare increases and we understand during these difficult times, that a fares increase is not welcome news; however these increases are unfortunately a necessary change in order to continue providing the area with a network of key services.
There has been widespread coverage in the National news recently regarding the need to cap fares to ease the impact of cost of living increases on bus passengers. Diamond Bus has aways been committed to providing affordable fares and currently many of our Worcestershire fares are amongst the lowest in the country, and, even with the increases planned for September, we believe our fares will still fall below the recommended national capped fare rate.
The agreement with Worcestershire County Council ensures that the current services will continue until at least the end of March 2023. However Diamond is committed to continue working with the Council to maintain and grow services beyond this.
Bob Baker, Managing Director for Diamond Bus confirmed: "We are hugely grateful for the additional funding that the Council has been able to offer as an emergency measure.
We are committed to providing Worcestershire with the robust bus network it needs to support a growing community, but services need to become viable commercially in the long term and to do this we need a significant growth in passengers travelling by bus."
Diamond Bus has widely publicised that, in the current economic climate and post-pandemic, we need the community to support local buses. We believe that this will only be achieved by better collaborative working and engagement between all stakeholders in the future and we will be continuing to work with Worcestershire County Council to develop plans to achieve this.
The following services have been able to be saved as a result of the new partnership agreement: 
Confirmed changes in August:
Service
Route
Change Date
Proposed Change

Bewdley - Kidderminster

28/08/22

Service Saved! Service will continue to operate current timetable and route (Service 2 will not be reinstated in replacement of this service)

Kidderminster - Spennells

28/08/22

Timetable Improvements for commuters to provide better connections with Birmingham train services

Redditch - Washford Mill

28/08/22

Service Saved! Monday to Friday will continue to operate current timetable, some revisions to weekend times.

Redditch - Astwood Bank

28/08/22

Service Saved! Monday to Friday will continue to operate current timetable, some revisions to weekend times.
Service 812 to School journeys will NOT resume in September '22

Stratford - Coventry

14/08/22

Will operate current timetable in full until 14/8/22.
From 14/8/22 until 28/822, A revised timetable will operate between Solihull and Coventry by Diamond Bus on behalf of TFWM.
From 14/08/22, Solihull to Stratford service will be operated by Stagecoach on behalf of Warwickshire County Council.
From 28/08/22, Coventry to Solihull service will be undertaken by a different operator on behalf of Transport for West Midlands**. 

Redditch to Batchley

28/08/22

Timetable will change to become a 20 minute frequency throughout the day.

Redditch to Kidderminster

28/08/22

Service Saved! Service will continue with some timetable changes. 1935 Journey from Kidderminser to Bromsgrove is removed.

Alexandra Hospital to Princess of Wales Hospital

28/08/22

Service Saved! 52A will now operate Alexandra Hospital to Bromsgrove only, the Section to Princess of Wales Hospital is removed and running times adjusted to improve reliability

Redditch Circular

28/08/22

Service Saved! Service will now continue with new service enhancements - will increase to hourly and will now serve the Amazon Warehouse, Redditch.

67

Redditch to Studley

28/08/22

This service will be withdrawn but will be replaced by a re-routed Service 247 with a revised timetable.

Halesowen - Bromsgrove

28/08/22

Timetable will now continue to operate as per current timetable.

Redditch - Evesham

28/08/22

Service Saved! Service will be rerouted between Redditch Bus Station and Alexandra Hospital via the current Service 67 route, and reduced frequency over whole route.

294/296 
Kidderminster/Bewdley to Worcester
28/08/22 

Some Timetable Changes will be introduced.

Additional journey on the 296 in the morning from Stourport to Bewdley School to assist loadings on the S15 service.

The Afternoon journey from Bewdley at 15:33 has been pushed back slighty again to accommodate loadings from Bewdley School, This has meant a slight amendment to the 1630 journey from Worcester on the 294 which will now leave at 1640.

Timetable changed also on Saturday afternoons to make it standard and easier for Passengers

Bewdley - Worcester Sixth Form College 

05/09/22

Service 302 to Worcester Sixth Form College will now be re-instated, following a funding agreement with Worcestershire County Council

Kidderminster to Bewdley

05/09/22

Please note this service will be subject to standard Diamond Bus Kidderminster fares from the  start of the new academic year.
Information updated 06/09/22.