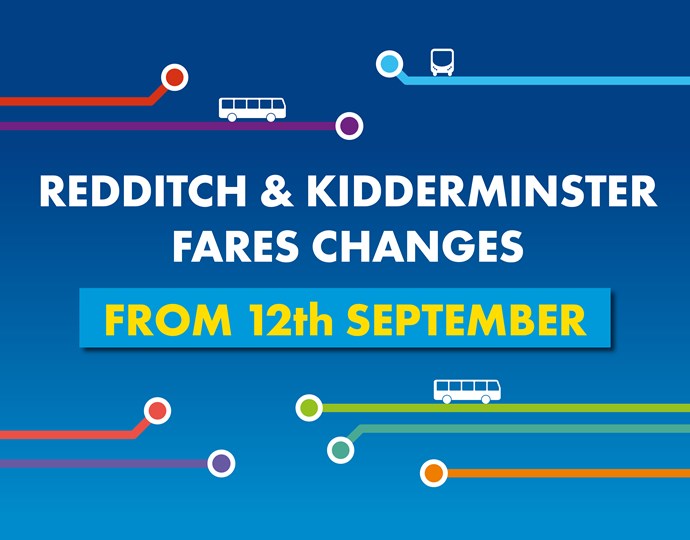 Worcestershire Fare Changes
29 November 2022
Worcester and Warwickshire
There will be some changes to fares from 12th September.
2022 has been an extremely challenging period for Diamond Bus with increased operating costs and passenger numbers continuing to fall below pre-pandemic levels.
Whilst we understand that during these difficult times, a fares increase is not welcome news; these increases are unfortunately a necessary change in order to continue providing the area with a viable network of key services. 
Some local Redditch and Kidderminster fares will increase, however, Diamond Network tickets for cross boundary travel across the Diamond network remain frozen.
Redditch Fares:
Ticket
Current Price
New Price

Redditch Adult Single

£1.90

£2.10

Evesham / Worcester
Adult Singles

£4.40

£5.00

Adult Day 

£3.10 

£3.50 

Adult Week

£14.10 

£15.00 

Adult Month

£41.15 

£45.00

Child Day 

£2.75 

£3.00 

Child Week

£12.60 

£13.50 

 Child Month
£32.00
£35.00

Family Redditch Day

£8.75

£8.75

Pre 09:30 Concessionary Fare
(selected routes)

£1.20

 £1.20
Kidderminster Fares:
Ticket
Current Price
New Price

Kidderminster Short Hop

£2.20

£2.50

Kidderminster Adult Single

£2.60

£2.80

Adult Day 

£4.15

£4.50 

Adult Week

£16.25

£18.00

Adult Month

£41.15

£45.00

Child Day 

 £2.75

£3.00

 Child Week

£13.00

 £14.00

Child Month

£32.50

£40.00

Family Kidderminster Day

£9.25

£9.25

Pre 09:30 Concessionary Fare
(selected routes)

£1.20

£1.20