Forge Mill Needle Museum and Bordesley Abbey Visitors Centre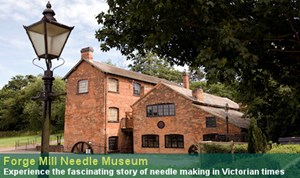 Forge Mill Needle Museum in Redditch is a fascinating place to visit. This historic site illustrates the rich heritage of the needle and fishing tackle industries. Did you know, Redditch once produced 90% of the world's needles!

On the same site, just a very short walk from Forge Mill Museum, are the ruins of Bordesley Abbey - a medieval Cistercian Abbey which has been extensively excavated.

How to get there: Diamond service 146 stops at Abbey Stadium and service 62 stops on Forge Mill Road, both of which are just a short walk from the museum.