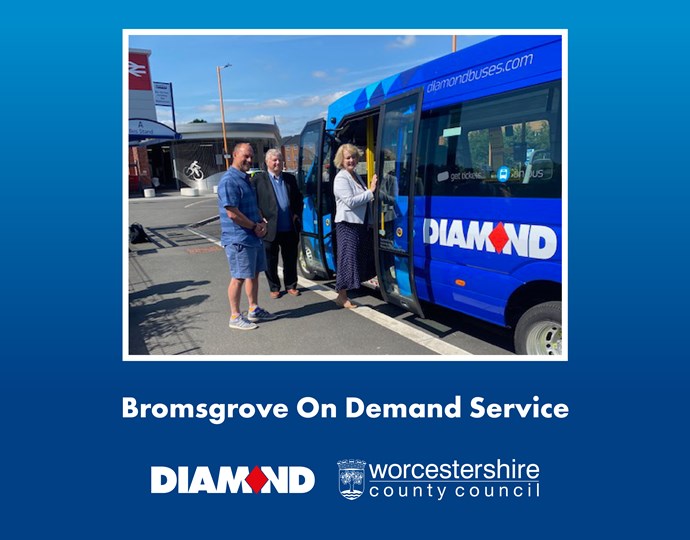 Bromsgrove On Demand Service proving a huge success
31 August 2021
Worcester and Warwickshire
The Bromsgrove On Demand Service which commenced in July 2021 is proving a real success with local passengers, as more than 800 journeys have been completed since the service launch.
Bromsgrove On Demand (BOD) allows people living within Bromsgrove and surrounding villages to access pre-booked buses for journeys anywhere within the service area, including to and from the town centre, Bromsgrove Railway Station or nearby villages.
The aim of the service is to help reduce congestion and provide improved public transport options for local residents.
Councillor Alan Amos, Cabinet Member with Responsibility for Highways and Transport, said: "We're delighted at the success of the pilot Bromsgrove on Demand service so far.
"To have over 800 journeys completed in the first month has exceeded even our own expectations.
"It goes to show what a great pilot scheme it is and that the people of Bromsgrove really wanted it and are willing to use it."
Diamond Bus operate two minibuses on the service, on behalf of Worcestershire County Council who manage bookings via their 'Worcestershire On Demand App'
Kevin Collins, Diamond Bus Redditch Operations Manager, added: "We have been very happy to be a part of the successful launch of the new on demand service in Bromsgrove. We have had very positive responses from all of the users, some of whom have now become our regulars."
The 'Worcestershire on Demand' app is available on the Apple App Store and Google Play Store and to find out more go to the Worcestershire on Demand website here: https://www.worcestershire.gov.uk/info/20906/worcestershire_on_demand_wod
Photo: Cllr Kent, Cllr Amos and Cllr Karen May at the launch of the Bromsgrove on Demand service.