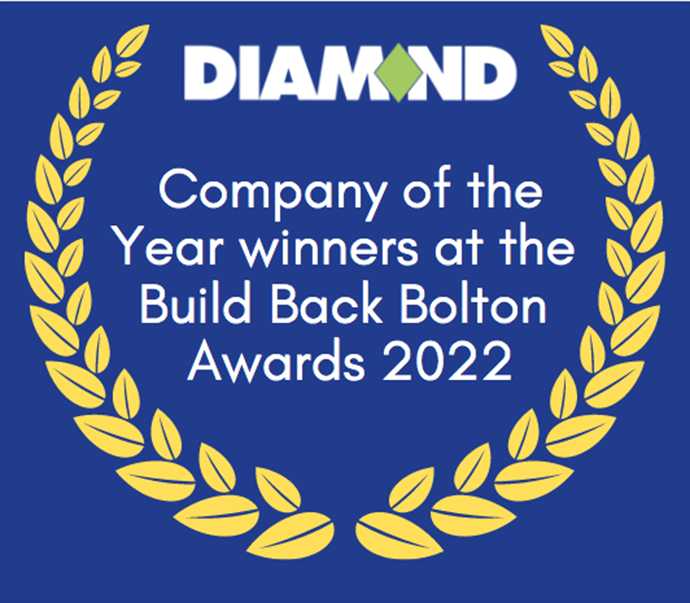 Diamond Bus North West are proud to be named Company of the Year 2022
23 September 2022
Diamond Bus North West are proud to be named Company of the Year at the Bolton Evening News Build Back Bolton Business Awards 2022.
At Diamond Bus North West in the last year alone, we have positioned ourselves with simple fares, a reliable service, and routes spanning across Greater Manchester. We pride ourselves on the fact that 'we're on our journey to everyday greatness'. Daily we operate over 200 buses from two depots in Greater Manchester, connecting towns and cities across the region. 
Our drivers are at the forefront of everything we do, every driver plays a key part for the passengers that they carry. They are trained in great customer services and know how to handle a situation if one presents itself to them.  
Recent research shows that 30% of people use the buses for Leisure/Eating Out/Non-Essential Shopping and 25% use them for Commuting. It's also told us that the satisfaction with frequency of buses is up by 6% this is helped by our improved App which gives live tracking of our buses. 
We have now completed our investment adding more than 120 new vehicles to our fleet and it is now 100% compliant to Euro 6 standards ahead of schedule. This allows us to provide towns like Bolton, Bury & Wigan and cities such as Manchester and Salford with one of the youngest fleets in the country. We're doing our bit to create a greener environment. 
Having a modern fleet encouraged us to look at the way we recruit for the future leading us to engaging with Bolton College and Total People based in Wythenshawe where we've engaged 4 apprentices for our engineering department, we see this as the start of our partnership with our local school leavers in turn providing employment opportunities to our local community. 
Customer Services are also on hand to answer queries Monday to Friday. We have internally setup for our Customer Service department a system called Freshdesk which is a cloud-based customer service software providing all smart automations that get things done faster. This software has reporting systems in which we can see how many enquiries are dealt with on a day-by-day basis. 
In partnership with Southeast Lancashire Community Rail Partnership we're providing a new service that runs on a Sunday and Bank Holidays from Horwich Park Way Railway Station to Rivington to get the community out to enjoy the local area. This makes the most of the beautiful rural countryside surrounding Greater Manchester. The service will visit Lower Rivington Reservoir, and Rivington Village Hall. We have partnered with Southeast Lancashire Community Rail Partnership to operate the bespoke service which builds on last year's extension of another service. 
We have also struck up a partnership with Go Ape in Rivington where we're able to provide a 10% discount on Tickets to anybody pre booking for a Sunday with a code this allows people who may not be able to get there to be able to use our bus service to have a great day out.  
Matthew Rawlinson Deputy Managing Director Says:
Since coming into Bolton 3 years ago and having to contend with the pandemic, this awards shows how far we have come as a company, everybody in the business has worked so hard to get us to this position, well done to all our team.
Bob Dunn Managing Director Says:
This is an award I am very proud we have won, this shows the commitment we have made to the Greater Manchester area. We will undoubtably push forward on this award as we strive on our journey to everyday greatness.