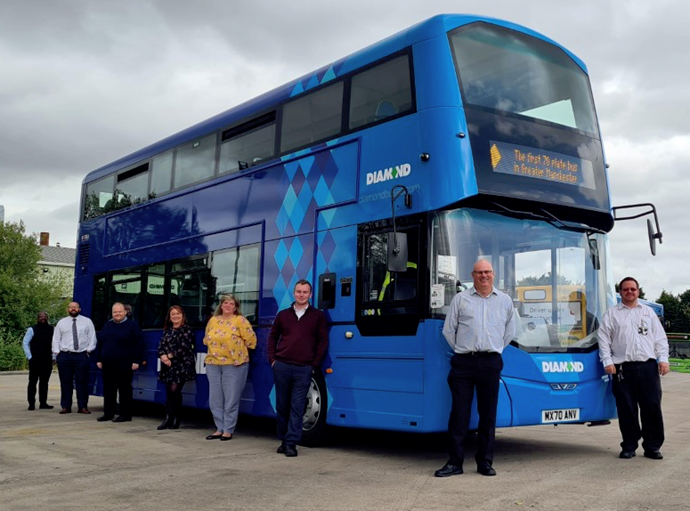 First 70 Plate Bus in Greater Manchester
24 September 2020
Moving on from our 'white knuckle ride' of a first 12 months in Bolton; what a positive fortnight we have just experienced.
During the past 14 days at Diamond Bus North West, we have seen the arrival of 28 Brand New Wrights Daimler Streetdeck Buses delivered highlighting our investment commitment to the tune of circa £5.8million.
All these buses have arrived painted in our Trusted 2 tone blue colours direct from the factory in Ballymena, NI. The finishing touches including applying our vinyls need to be completed on site at our Bolton depot, this was achieved and completed by the great team at Smart Graphics.
However, the excitement of the 28 buses arriving was just the beginning, we've experienced a challenging two weeks of

pr

eparing buses to be ready for service, all in time for the schools to return.The most recent vehicle arrived, The First

70

Plate

bus in Greater Manchester. What a way to celebrate our investment into Greater Manchester.
Bob Dunn Managing Director says,
"This is just part of our investment of which to date we have received 47 brand new buses during 2020 and over the Pandemic. Our committed and respected team have pulled out all stops and done a great job in getting these vehicles ready for service in a short space of time.
"The fact we operated the first

70

plate

bus in Greater Manchester is something we are all very

pr

oud off. It has been an achievement that we are still able to bring in these buses during these uncertain times. We are investing heavily into Greater Manchester and you can already see the difference we are making to the region.
"We are working hard to achieve Everyday Greatness"