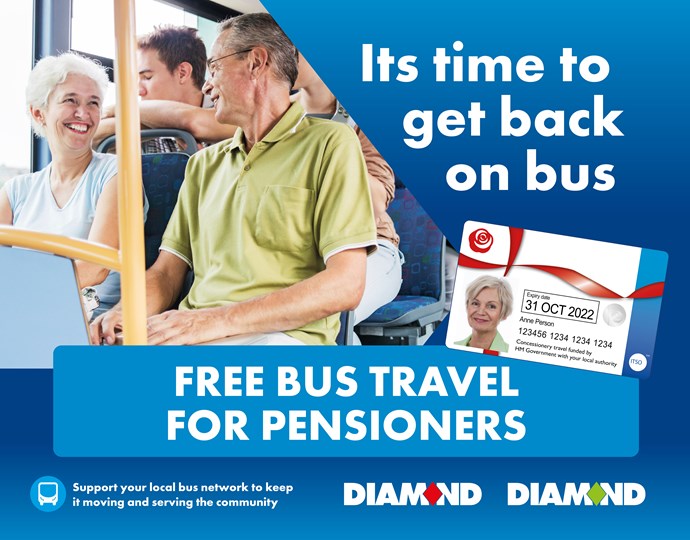 Free Bus Travel for Pensioners
29 November 2022
West Midlands
North West
Worcester and Warwickshire
South East
Derbyshire
Leicestershire
Oxfordshire
Shropshire
Staffordshire
Surrey
Warwickshire
Worcestershire
Getting about by bus is a great way to get back to doing the things you love.
Whether you want to reconnect with family, get out and about a bit more for your daily essentials, go shopping or simply meet up with friends for a good old natter, going by bus can open up all these opportunities for you.
And, did you know that if you are of State Pensionable Age you can apply for a National Concessionary Bus Pass, entitling you to FREE bus travel anywhere in England between 09:30** and 23:00 hours on Mondays to Fridays and at any time on Saturdays, Sundays and public holidays!
Diamond Bus accepts Older Person National Concessionary Bus Passes on our services across the Midlands, North West & South East. An Older Persons Pass is a great way to enable you to get out and about more often on bus services and your journey is totally free of charge during the valid period.
Bus operators across the country need to recover from low passenger numbers caused by the pandemic, and now that life is returning to normal it is vital that passengers come back to using the bus again to avoid services being reduced. The National Concessionary Travel Pass Scheme provides a great opportunity for Senior passengers to benefit from Free Bus Travel and for operators to receive much needed funds for carrying those pass holders.
If you already have a Concessionary Bus Pass, why not dig it out and get back on the bus, we are looking forward to welcoming you back.
If you don't have your Pass yet - Older Persons Travel Passes are issued by your local authority and you can check if you are eligible and where to apply at the gov.uk website here: https://www.gov.uk/apply-for-elderly-person-bus-pass
A National Concessionary Scheme Pass is also available for those with a qualifying disability which allows for free travel on bus services during the same periods. More information regarding this scheme and eligibility can be found here: https://www.gov.uk/apply-for-disabled-bus-pass
**The National Concessionary Pass Scheme permits travel after 09:30, in Oxfordshire & Warwickshire free travel is permitted after 09:00, some other issuing authorities also allow free travel at different times during the day, you can find a guide to free periods in Diamond Bus Areas here
Travel with confidence
Not been on board for a while? Don't worry, even though all legal coronavirus restrictions have now ended, we are continuing to follow enhanced cleaning processes onboard our buses and we are still working hard to ensure everyone can travel with confidence. Buses are clean and safe, and you can find out more about our current guidelines here