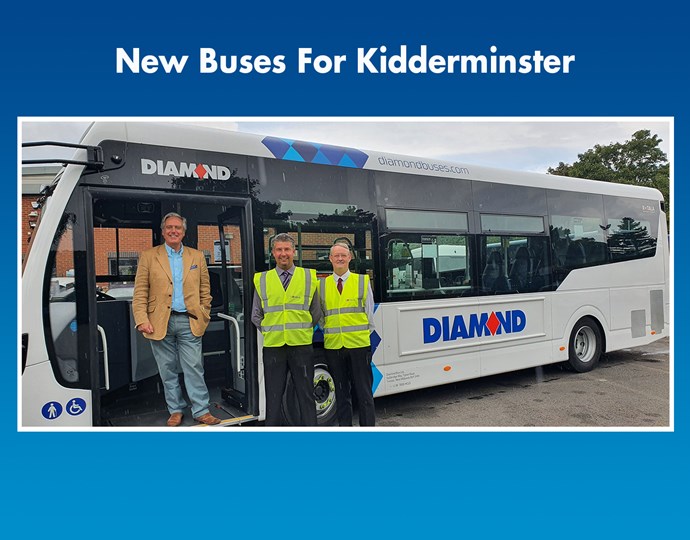 New Buses For Kidderminster
03 September 2020
Worcester and Warwickshire
Our Kidderminster Depot welcomed the first of five brand new Streetlite buses into its fleet this week.
The new micro-hybrid buses, which benefit from lower emissions will be in operation on various routes in Kidderminster including on the Number 2 to Bewdley.
We were also pleased to receive a visit from Mark Garnier, MP for Wyre Forest, who was keen to see our new bus first hand. As he was shown around the new vehicle by our Senior Technician - Lee Wolfe and Operations Manager - Nigel Gorman, Mark commented that "I am delighted to see 5 brand new buses arrive in Kidderminster this week by Diamond Buses, to add to their improved fleet. Diamond Buses have over the last couple of years invested into their fleet for Wyre Forest."
At Diamond Bus, we are proud to be continuing our investment in brand new vehicles. These buses will join the growing number of cleaner, greener vehicles that have joined our fleet over the past 18 months. In addition to improving reliability and performance, we are keen to also improve our passengers journey experience, which is why our latest batch of new vehicles also come with additional features such as e-leather seating, USB charging points and CCTV.
We look forward to welcoming you onto one of our new Kidderminster buses soon!
Pictured L-R: Mark Garnier MP, Diamond Bus Senior Technician - Lee Wolfe and Operations Manager - Nigel Gorman