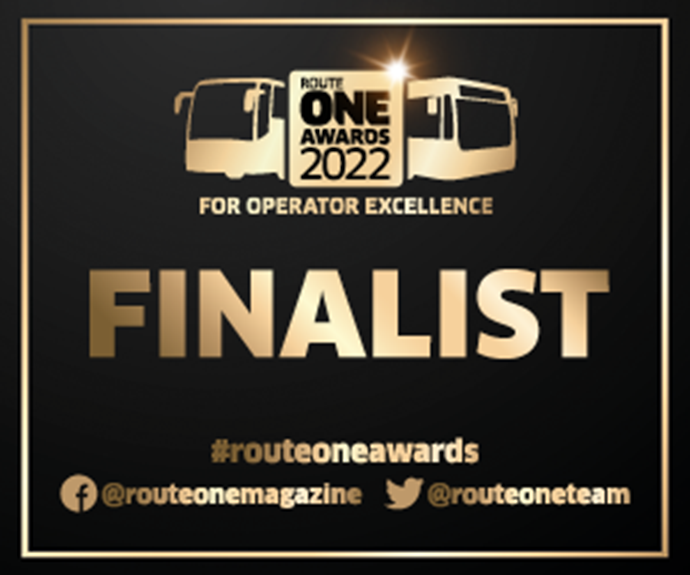 Routeone Awards 2022 finalists announced
29 November 2022
Routeone Awards 2022 finalists announced
We are proud to announce that Diamond Bus North West have been shortlisted for Large Bus Operator of the Year (Over 150 Vehicles).
We have been shortlisted alongside
Brighton & Hove • Go North East • Stagecoach East
Bob Dunn Managing Director for Diamond Bus North West states:
Being shortlisted for this award shows just how much effort has been put in from all members of the business. Over the last few years we have had to contend with a pandemic, however we have continued to provide a service for our customers and have worked hard to get to get to where we are.
I am proud of the employees that I work with who have all made this possible and should all be proud.
Now in its 16th year, the bus and coach industry's premier recognition scheme rewards excellence among operators and individuals.
The finalists of the 2022 routeone Awards have been announced, revealing some of the most outstanding operators and people in the coach and bus industry.
A diverse judging panel of industry experts have come together to create a shortlist of potential winners from an exceptional selection of entries. The finalists are now one step closer to being recognised as the best in the business at a spectacular black-tie event on Wednesday 2 November at the Hilton Birmingham Metropole.
Says event director Helen Conway: "After two years of disruption across the sector, we are delighted to host the routeone Awards again in November.
"As ever, the Awards seek to reward people and operators for their exemplary achievements at a fantastic in-person presentation evening where we can truly celebrate the best in our industry. It is a huge achievement to be shortlisted, and we wish all our finalists the best of luck."
Now in its 16th year, the routeone Awards boasts a judging panel of seven senior industry figures, each bringing a wide level of knowledge and experience from a variety of disciplines. Returning judges include Joan Aitken OBE, former traffic commissioner for Scotland; Kevin Middleton, former engineering consultant; Peter Nash, former head of commercial policy for Stagecoach UK Bus; Richard Delahoy, transport consultant; and Steve Dewhurst, former managing director for Volvo Bus.
Former Nottingham City Transport managing director Mark Fowles OBE and former Volvo Bus product engineering manager Norman Thomas join the panel for their first year.
The identity of the winners remains a closely guarded secret until the presentation evening, which will be held on Wednesday 2 November at the Hilton Birmingham Metropole.